I have a love-hate relationship with cooking. For the most part, I love finding new recipes to try and actually enjoy cooking on the weekends. But I don't really like recipes that are too labor intensive or make a wreck of the kitchen. This is especially true on week nights when all I want to do is come home to a hot meal that requires minimal effort and even less cleanup.
Because of this, anyone who has remotely discussed cooking with me will know that I LOVE my slow cooker (aka crock pot, as I've always known it). There is something so awesome about being able to dump a bunch of ingridients in the pot and letting them cook all day then come home to a delicious smelling house and a warm meal that requires no more effort than dumping the finished product into a bowl and shoving it in my face.
This is a recipe that I've been for about a year now. It's kind of my version of Italian wedding soup that I've modified along the way to accomodate our cooking needs and tastes. I ran across a version on a blog somewhere that required you to cook it on the stove and I thought to myself that I could make it in the crock pot and have been doing it ever since.
My goal is to make the ingredients easy to obtain and store so you don't have to rush to make it before any fresh produce expires. It's also easily modified to fit your tastes. And it is so, so delicious on a cold winter's night – or anytime of year, really. Because of the broth, I think it works year round.
Slow Cooker Italian Wedding Soup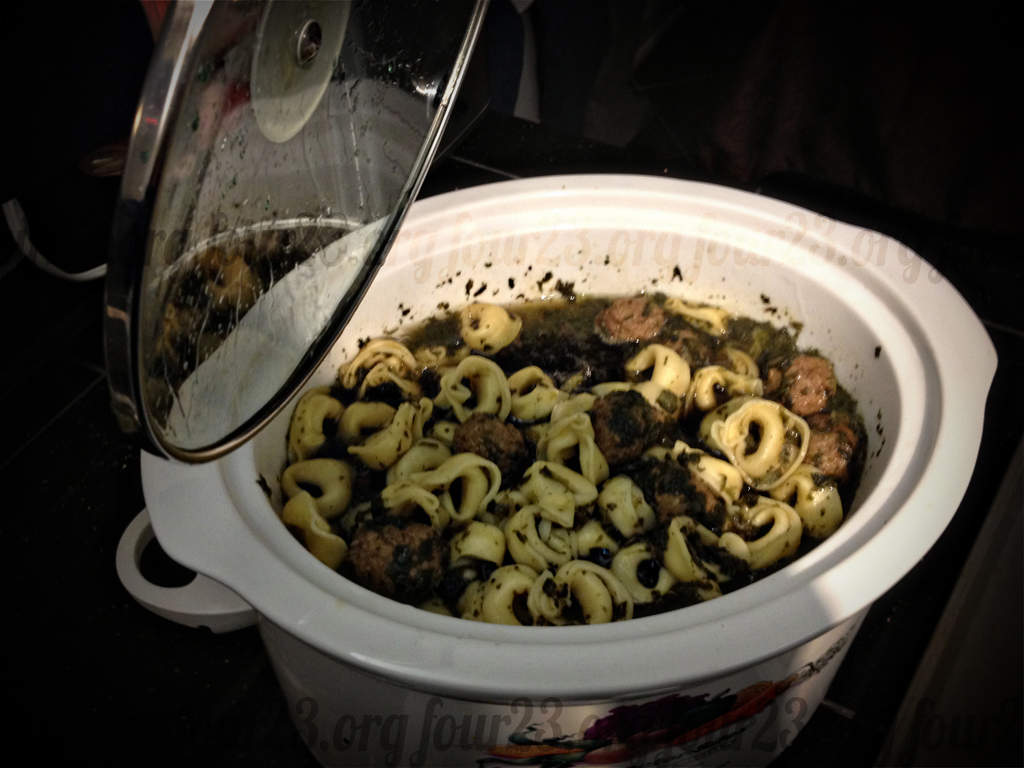 1 package frozen Italian-style meatballs. I use Mama Lucia's or Farm Rich. Approximately 32oz bag size.
1 package frozen chopped spinach. Usually I use the boxes (~ 10 oz) but today I had a larger bag (~1 lb) and used about 3/4 of that because I wanted MORE SPINACH!
1-2 boxes of chicken broth (32 oz)
Spices to taste: Italian seasoning, garlic powder, minced onions, salt and pepper.
1 package frozen cheese tortellini. Sometimes I use the fresh Buitoni if I can't find the frozen stuff – either is good.
1/2 bag frozen carrots (optional)
Place the meatballs in the slow cooker. Add a bit of the seasonings on top. Use more of the Italian seasoning but don't go overboard because the Italian style meatballs usually have a lot in it already. A pinch of the minced onions and garlic powder. On top of that add the spinach. If you're using bagged chopped spinach, you can kind of beat it on the counter to loosen it up and then put it in the pot frozen. If it's in the box form, I usually heat it up a bit but not completely – this just gives it a chance to spread out over the meatballs instead of cooking as one square. If you're adding the carrots, do it now. Steve enjoys it like this, I don't know if it's really traditional, per se but who cares, it fits our tastes. I don't eat carrots so I just eat around them.
Once you're done adding these ingredients, pour the box of chicken broth in and stir the ingredients so they get good and covered. Now here's a bit of a difference – in the picture above, I used one box of broth. The soup then turns out more meaty than "soupy". Everything tastes delicious and there's usually enough liquid for it to be soupy but still feel substantial. But if you want it with more broth than ingredients, I would add another box of chicken broth.
Once you've added the broth, cover and cook on low for about 8 hours. Again, the slow cooker is fairly forgiving – I could see this being done in probably four or five hours but if I leave it on during my workday too, it's still perfectly done.
Here's the kicker: thirty minutes before serving, add the tortellini and turn it up to high. This is important! Tortellini goes in last – don't add it in the morning – and don't forget to add it completely, like I did one night.
Once it's done, garnish with some parmesan cheese and dip some crackers in it and you've got a delicious hearty meal! Also, I'm pretty sure if you didn't want the cheese tortellini you could substitute some smaller pasta in there. Maybe even some ravioli or gnocchi!
So delicious! Time for another bowl!