(Note: you might have seen a very very rough draft of this pop up in my RSS feed the other day. Apologies for that – I accidentally hit publish when I meant to just update my draft. Here is the real post.)
It has been hot, hot, HOT here in Charleston the past few days. I'm talking the kind of oppressive heat and humidity where you can't catch your breath, the air feels like you're walking through think pea soup and the only sound you want to hear is the constant running of the A/C and whirring of the fan blades. Needless to say, when it's this hot out, there's not a lot of things that make me happy. Except these:
To be honest, I'm kind of perfume snob – I have specific scents that I like and I usually don't wear the body sprays because they don't last long enough. And I wear specific scents in the winter versus the summer. But my mom got this White Citrus fragrance mist for me last Christmas in her annual Bath and Body Works rampage and I put it aside to save it for the summer then almost forgot about it. But one day, I wanted something different from what I usually wear (either Clinique Happy or Ralph Lauren Romance) so I found this at the back of my cabinet and sprayed it on. And instantly fell in love! It's is so light and clean smelling and perfect for these hot summer days when you want a little bit of scent without it radiating off of you. Unfortunately, it doesn't look like B&BW doesn't sell this scent anymore but I might just explore other scents in the fragrance mist because it's cheap enough to cover myself in but light enough to where it's not overpowering.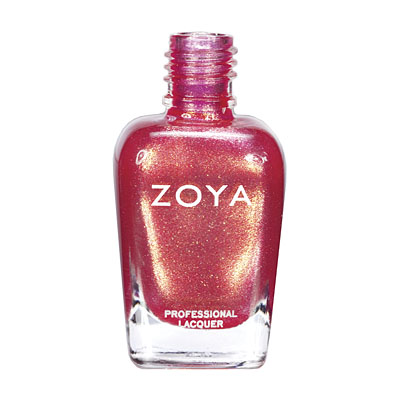 I fell in love with Zoya when Anna first blogged about them and their insane deals that they offer (it is not uncommon for them to run specials where you can get their polishes for free or half off) and they have pretty much been the only polish I will buy since. As I said, they run great specials, they have speedy shipping and excellent customer service (one time, I was missing half of my order and they sent it out immediately, no questions asked) and their colors are to die for (some favorites: Charla, Ivanka, Happi, Reva). But hands down, my favorite color out of any of them is the one above: Rica. I have worn this so many times, both on my hands and feet and not only do I find myself unable to stop staring at it, but I get so many compliments on it. It's a bit lighter than in the picture and more of a orangey/coral. It's a beautiful summer color and just enough away from normal pinks or reds with enough shine to give it some pizzazz without drifting into super obnoxious neon territory. Seriously, I am already contemplating buying another bottle in case they run out.
I live in South Carolina and I have shoulder-length, thick straight hair. What this translates too is a wavy, out of control frizzy hairdo on those days when the weather says it's 82 degrees but feels like 102. Most of the time, I just get out of the shower and let it air dry, since blow drying and anything else is worthless, but this stuff … this Garnier Fructis Anti-Humidity Smoothing Milk. This stuff is pretty awesome. I usually put it in my hair right after showering and not only does it make these stylish look-like-I-know-what-I'm-doing waves in my hair, but it also keeps my ends from looking like I put my finger in an electrical outlet. I've been using it so much that I've gone through a bottle in like a month or so – I'm gonna need to go out and get some more!
This is an oldie, meaning I've had it for awhile but I've never actually written about it. I used to sleep with regular pillows but back in the early days of when Steve and I were dating, I would stay over at his place and notice that he had this really heavy and malleable pillow, almost like a beanbag, and he explained to me that it was his Sobakawa Buckwheat Pillow and it was awesome. Apparently, his mother had ordered it off the TV, didn't like it so he took it over and to this day, he still has it (that was like 7th or 8th grade, he says). Anywho, I never bought it until we moved in together and I would roll over to his side of the bed after he left for work in the morning and would find a nice comfy pillow that never got hot, always stayed in the position I put it in and actually kept me comfortable, with no shoulder or neck pain. And I was sold. Needless to say, at the time, I couldn't find that specific brand of pillow to buy so I bought this one and from then on, it was the only type of pillow I wanted to use. It's actually in much better shape than Steve's and it filled with enough buckwheat hulls to be malleable and move around but not to feel flat. It also keeps cool (I never, ever, ever have to flip it) and it doesn't lose it's shape or support. Forget memory foam, forget air beads, forget feather and down – this is where it's at. Also, it weighs nine pounds so if you're ever in a pillow fight, you'll be the instant victor.
As I mentioned earlier, it's hot and humid down here in Charleston so I pretty much spend my summers in shorts, tank tops, flip flops and pony tails. Which means I'm sweating. Which means I need non-melty makeup. And also, just to test my summer makeup – I had to attend a funeral earlier this month – so that makeup had to hold up not only against the heat but also against the wave of tears.
Enter these:
Hands down best summer combo ever – the moisturizer is light enough to not feel heavy on my face but gives me nice even coverage with a healthy glow. The eyeliner holds up perfectly to the summer heat and sweat and even withstood my tears. And I've been a longtime fan of the pink and green tube – I alternate between regular and waterproof, only because I have trouble getting the waterproof off completely and it bothers my eyes. But overall, these are the only things I wear in the summer.
I LOVE CAKE! I actually prefer cake without the icing but with ice cream like absorbed into it. And when I stumbled across this, I had just had regular birthday cake ice cream from Marble Slab and wanted more. I love this one – it is hands down my new favorite ice cream and so freaking delicious. Perfect!
Never been allergic to anything in my life, until we brought Baxter home. Vet actually told us to give him Zyrtec because he has skin allergies and as an experiment, I took one to see if it would help me tolerate him. It worked. Thank god!
Got any summer favorites?