Back in October, after seeing posts about it all over blogs and the Internets, I decided to go ahead and join Birchbox. There were quite a few reasons to justify it but mostly it was that I like beauty things and for $10 bucks a month, it seemed a worthy little pick me up to have some samples of higher end beauty products that I would probably never buy show up at my door.
It's been three months and that pretty little box has appeared in my mailbox like clockwork. To date, I'm satisfied with the program. With my initial box I was a bit skeptical but I went in and tweaked my profile a bit and have been nothing but happy with the last two boxes.
I haven't found anything worth purchasing as a full size yet but I have found things that I love and use regularly. I'm just still not okay with spending $125 on moisturizer. My philosophy is that I'll enjoy it for a month and then something else will come in my next box that I can enjoy just as much.
In the spirit of a good review, I figured I'd post up the contents of each box for the past three months and offer my opinions about them.
For starters, can I just say that I love the packaging. Everything is wrapped up so pretty and it even arrives in a bright pink shipping box, which can be a nice little surprise if you're having a gloomy day. And inside, there's a card that explains what the current month's "theme" is and how the products relate to that theme, how to use them and how much they are. It's like opening a little gift to myself once a month.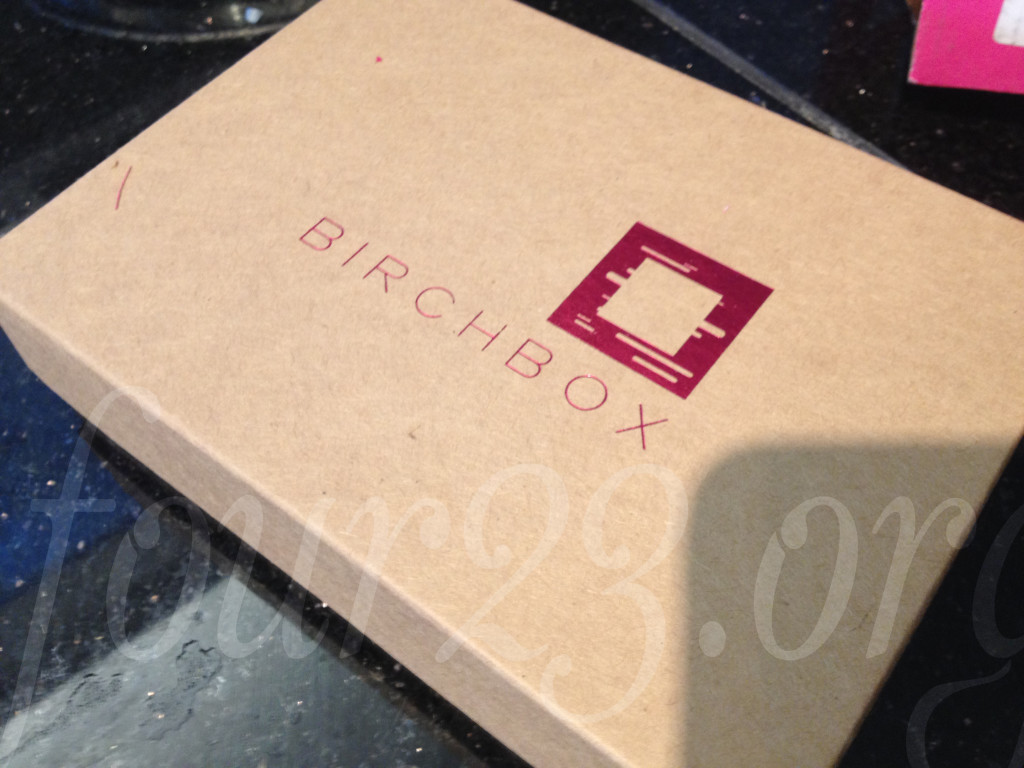 November 2011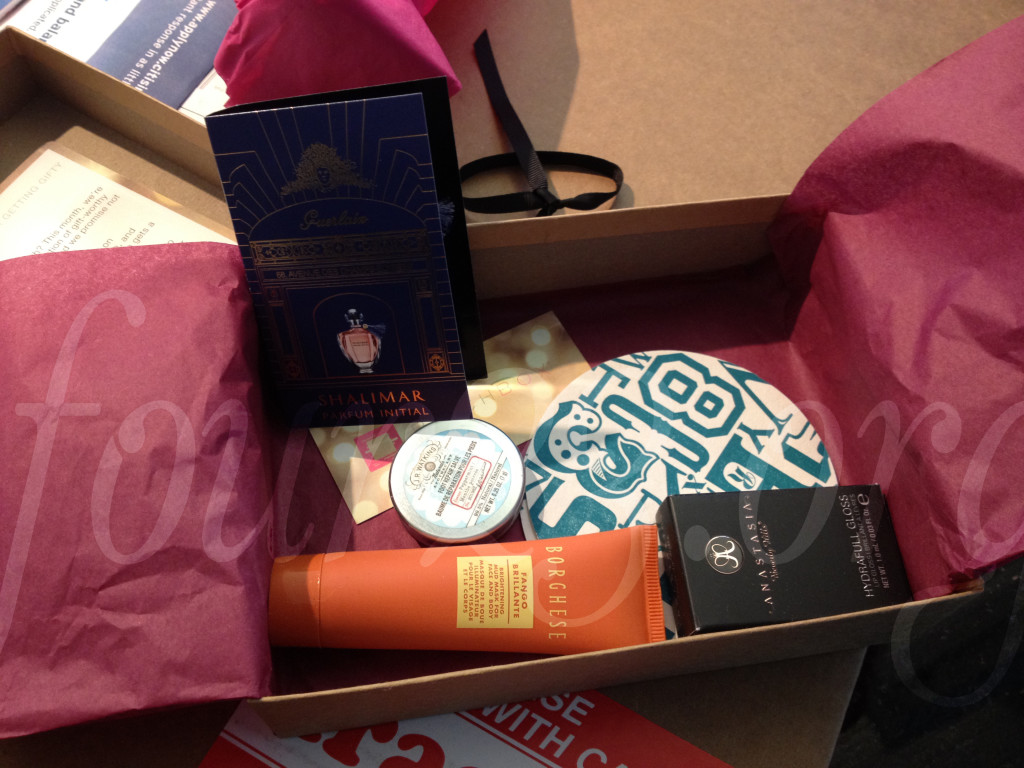 • Anastasia Beverly Hills HydraFull Gloss in Sugar Pink
• Guerlain Shalimar Parfum
• Two Paperdolls coasters
• Borghese Fango Brillante – face mask
• JR Watkins Peppermint Foot Salve
I really like the color of the gloss but that's about it. I'm picky about what I put on my lips as it is and generally don't wear any lipstick or gloss because I usually don't like how it feels and end up wiping it off. This gloss, unfortunately, was one of those. I found that it became sticky and dry and it was actually a bit flaky on my lips. I never like to feel the gloss and this was one where I did. It was also a bit thick and tough to spread evenly. It's just not really my bag.
The perfume I immediately threw away. It smelled like something my grandmother would wear.
The coasters were cute but I guess I was a bit disappointed that they were part of the samples and not an extra thrown in, especially considering that they were just heavy cardboard. I keep them on the desk in the office to keep my drinks from ruining the cheap laminated desktop. But they're not really something I would buy to keep around the house.
The face mask I used once and didn't mind it. I have a hard time judging "face stuff" because I never seem to notice a visible change. It tingled a bit when I had it on, which felt odd but it did seem to make my skin softer. Maybe if I used it more often, it would do something but I always seem to forget to do these things regularly.
The foot salve was nice. My feet always get dry and cracked during the winter months so I've been putting it on at night and sleeping with socks on and it seems to help. It hasn't fixed the major cracking but it has helped with the dryness. Not sure if this is any different than what a cheaper foot lotion would do but it's certainly nice for the time being.
Overall, the November box was slightly disappointing. The only thing I've used regularly is the foot salve and I really considering cancelling my membership if the boxes were going to be similar to these contents everything month. But I did go in and modify my profile a bit and decided to give it another shot and am actually thankful I did.
December 2011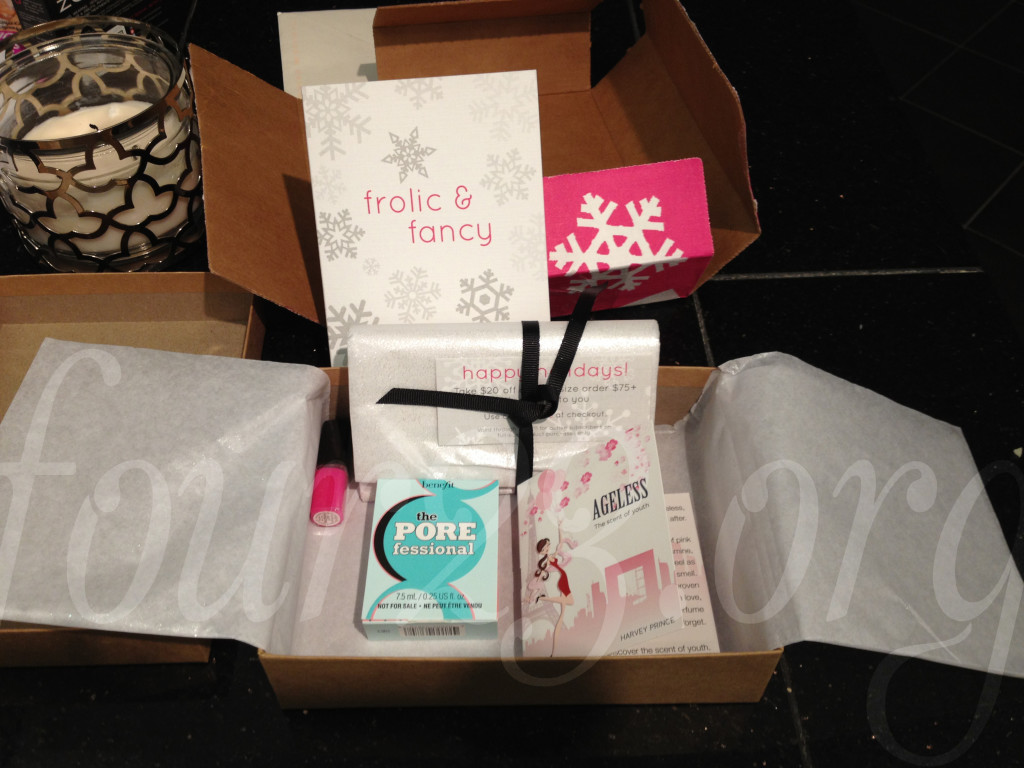 • Jouer Mositurizing Lip Gloss in Birchbox Pink
• Harvey Prince Ageless – Pink Grapefruit perfume
• Showstoppers Designer Fashion Tape
• Benefit The POREfessional
• EBOOST Orange Natural Energy Booster
• L'Oreal Professional Mythic Oil
I was actually delighted when I got December's box because the choices seemed to improve over all.
The lip gloss was much better than November's sample, though I will say that the pink was a bit shocking and looked slightly garish on me (I preferred November's color better). However, the texture of this gloss is smoother and it glides on my lips so much nicer than November's. I actually entertained the thought of purchasing a full size of this until I realized I ended up wiping this off in under a half hour, not because I didn't like the gloss itself but because I just don't like anything on my lips. However, when I do feel like being adventurous, I do use this gloss because it has proved to be the most tolerable that I've tried.
I LOVED the perfume, so much that I actually had used the sample tube up in about two weeks because I wore it every day. It was fruity and light and hung around for most of the day. They say it's supposed to make people think you're younger (because you smell younger?! WTF?!) but I can't speak to that because it's not like people stop me on the street or anything. I think it smells like the scent a younger person would wear but then again, I love Britney Spears Fantasy perfume so who I am to judge. At the very least, this one was versatile enough to wear to work and extend into a night out without being too overwhelming.
The POREFessional from Benefit I just love to! I tend to have large visible pores in the area under my eyes, surrounding my nose, and I've been using primer for a year or so to hide them but it never seemed to do as good of a job as this stuff. It just goes on smooth and light and masks the pores long enough to satisfy me. It's even light enough that I've used it by itself to just even out the skin in that area. This is another thing from this box that I have considered buying full size. Plus, I've heard nothing but good things about Benefit products.
The Mythic Oil was nice enough. I have fine hair but have always had a lot of it and it tends to get a bit frizzy and poufy so I need some kind of oil/product to smooth it out and give it that just come out of a salon look. I go back and forth with different types of Moroccan oil, smoothing milk, etc. and this acts the same as all those. It was nothing phenomenal compared to other products I've used but it did the job I expected.
The designer fashion tape and the EBOOST Energy booster were two things I just didn't use. Mainly because I didn't go anywhere that required the use of the fashion tape and I'm just not that into "energy boosting" powders or things of that nature.
January 2011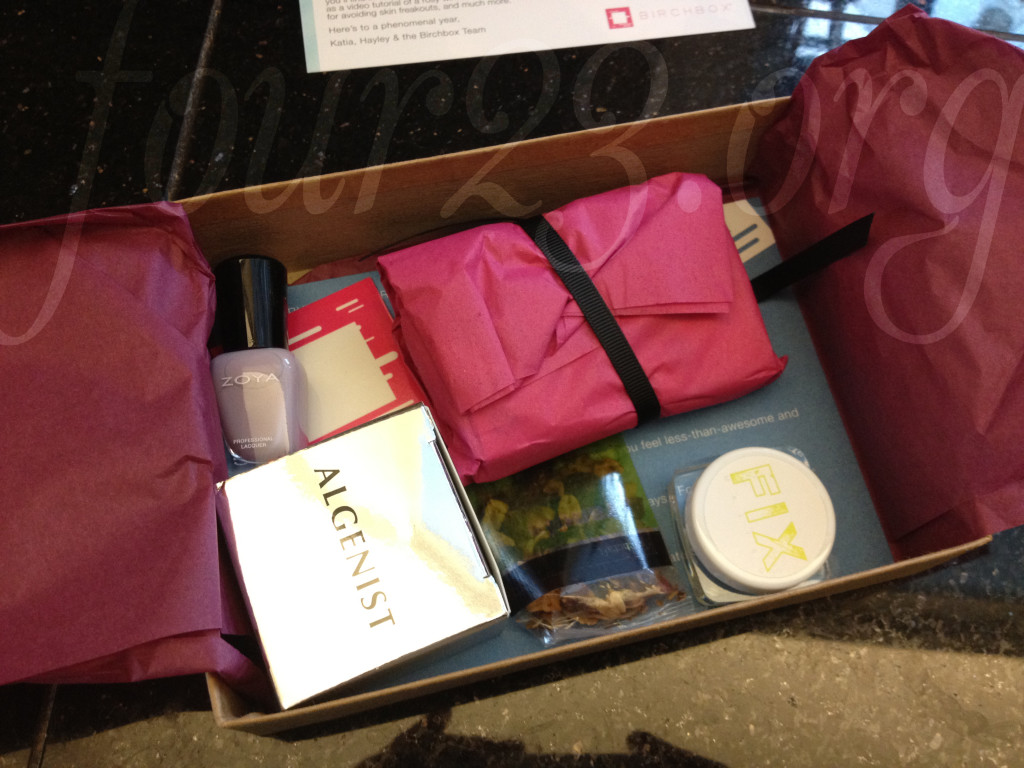 • FIX Malibu Immaculat Complexion Advanced Antioxidant Serum
• Juciy Coture – Juciy Coture
• Zoya Feel Collection in Kendal
• Algensit Firming and Lifting Cream
• 'wichcraft Granola
Can I just say that I LOVED January's box?! I mean, it just keeps better and better. I used every product in this box, with the excpetion of the granola because I'm not too excited about food items. Also, since I'm trying to regulate what I eat and there wasn't nutritional value on the packaging, I just bypassed it completely. The other things, however … still using them and still loving them.
The FIX serum is heavenly! I use it before applying moisturizer and it makes my skin so soft. It smells amazing too, light and a little fruity. The card says a little goes a long way and it's not kidding. I think this is the one I'm going to miss the most when I run out (there's no way I can justify spending $125 on it right now).
The Juicy Coture perfume was another one that was gone in a week or so. This is a very feminine and girly smelling fragrance (so another youthful scent! Guess I told my profile I wanted to be younger than I am! LOL) but it's light and soft enough that when you're wearing it, you get hints of it throughout the day. It's long lasting too, which I like. This might be one that I buy to replace some of my current scents when they run out.
I can't say anything bad about Zoya because you all should know that I sit firmly in the fangirl camp for them. The shade of this sample is from the Winter FEEL collection and I had actually already ordered it (along with three other colors from the same collection) and used it before this box so that speaks to my love for this brand and this color.
Finally, there's the Algenist moisturizing cream, which I also love. I've been using it almost every day for the past few weeks and it seems to have helped firm my skin up a bit. It also makes my skin soft. It goes on easily and is not oily at all which tends to be my biggest problem with moisturizers because I'm susceptible to breakouts. This is another product that I'm going to miss when I run out because it is also rather pricy ($94 for 2oz!)
Overall, I'd say this was a successful first quarter with Birchbox and I'm really happy things improved after the first box because it really is a treat getting new products to try each month. I like that I have the option of going back and looking over all the box contents if I want to purchase things at a later date. And I love that I get reward points towards my purchases not only for referring others but also for filling out surveys on the products.
If you're interested in joining Birchbox and getting awesome quality beauty samples delivered once a month, I'd love for you to do it through my referral link. Then maybe I can buy the moisturizer for $100 bucks!