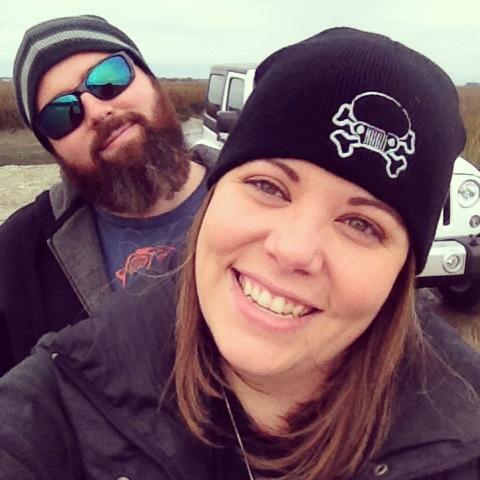 Southern by birth, proud Philadelphian by the grace of divorce and the US Navy, I'm Kristy and currently anchored in Charleston, SC with my husband, Steve, and two mischievous furbabies, Sammy and Baxter. I'm in my thirties which is worth mentioning because it means I'm old enough to know better and old enough to really not care. Not caring was a tough lesson to learn but it was completely worth it.
I have a Journalism degree from Temple University (GO OWLS!) which I put to excellent use (*sarcasm*) by working as a Systems Analyst and in house IT Geek for a local Cancer Center. I joke but my job really is super fulfilling – I troubleshoot, build and teach software that helps keep the machines running that let my coworkers save lives.
A woman of many hobbies, I specialize in only a few. There's nothing I love more than sitting down with a glass of wine and a good book, catching the latest TV show or movie, immersing myself in the corners of the Internet, getting hands cramps from playing XBox or taking long rides in my Jeep with the windows down and music up.
I thoroughly believe in retail therapy, bullet journaling and list making, sparkly things, Jeeps, the Philadelphia Eagles, macaroni and cheese, Diet Coke, Spotify and slaying dragons in Skyrim or looting the shit out of Pandora on Borderlands. And beer. Lots and lots of good beer.
The Wolfpack
Despite knowing of each other since high school, Steve and I didn't begin dating until the summer after my freshman year of college when we were working in the same mall. I ran into him in his store and recognized him immediately as the popular, charismatic football player whom I'd had a crush on my junior year. I joked that my girlfriend and I were going clubbing and that he should drive us and he surprised me by saying yes and that is the last time in our relationship that I ever saw him dance. A few days after that, he showed up in my store and officially asked me out. Our first date was spent in the parking lot of the movies, sharing a six pack of Corona and we've had many, many dates since then.
In 2006, we packed all our worldly possessions and not only moved in together but moved all the way to the South Carolina Lowcountry. We adopted our first furbaby and bought a house in 2007, adopted our second fur baby in 2011 and finally, after years of professing it would never happen, got married in 2012.
We are childfree by choice and we take advantage of that by bonding on the XBox, watching movies and TV shows, trying out delicious restaurants, exploring the great outdoors and new places and taking long road trips in our matching Jeep Wranglers.
The Husband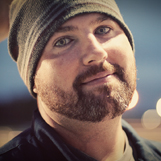 Out of all things I have called him, copilot is my favorite. He has been by side through my entire adult life, in everything we do, all the ups and downs and every adventure I've been on. He is my rock and without him standing next to me, I have no foundation. A mechanic by trade, he is one of the good ones because he believes in honesty, quality and integrity. He is loyal, steadfast and one of the most stubborn people I know. He calls me on my shit, puts up with my insanity and neuroses and has never yelled at me for singing every song that has ever come on the car. His favorite things are video games, offroading, metal detecting, fishing, shooting guns, our Jeeps, watching shitty movies and annoying me when I'm not paying attention to him.
The Brains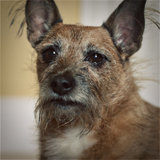 We found Sammy at our local SPCA in 2007, huddled in a tiny cage with a mane of wild and woolly hair. Steve, apparently determined to pick out the craziest looking dog, pointed at him and said "I want that one!". I furled up my noise, said "Ew!" and pointed to a cute Shih Tzu. Guess who won? Steve couldn't have picked a dog more like him. Sammy is our old man. He's a little war torn, grizzly, grumpy and wants love only on his terms. He's a bit broken and aggressive and we take that in stride. Just don't touch his face or paws or well, just let him come to you. He's smart as a whip though and he runs the treats operation in the house. His favorite things are giving kisses, tricking you into petting him then biting you, acting like he needs to go out only because he thinks he's getting a treat and going bye-bye.
The Brawn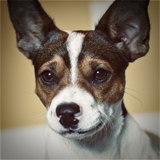 Baxter was a wanderer, living on the streets near my grandma's house, ragged, bony, filthy and covered in ticks. He came trotting right up to us though, tail wagging and ears perked high. Sammy was over the moon, which was a first. Between that and the fact that we had spent the day saying our final goodbyes to my grandpa, it seemed like fate and maybe someone from above was sending him to us in our time of need. He is Sammy's exact opposite. All puppy, he wakes up full of piss and vinegar with a fully charged battery then crashes hard at the end of the day. He is super fast, jumps ridiculously high and spends his entire life trying to get or take as much attention as possible from anyone who will give it to him. He cannot get enough of his humans. His favorite things are annoying Sammy, cuddling with you under any blanket, snuggling with you, all food and anything on the floor and pulling every toy out into the living room.
About Four23
I write about my thoughts and observations on this little life I call my own and the things and people that surround me.
This blog is not my job and never will be. It's a hobby I've partaken in on and off for the better part of fifteen years, when you had to hand code everything, long before the word blog even existed and even longer before people were making money off of them.
I started my time at free servers then moved over to being hosted at a couple of different domains before finally buying my first domain, kallure.com, in 2001. I stayed there for about ten years and around my thirtieth birthday, got the wild idea that I had outgrown the Kallure identity and wanted something new and fresh for the new decade I was entering.
Of course, ten years later, it was even harder to find unique domain names, especially of the dot com variety. So I had to get a bit creative and in the end settled on four23.org, which is a simple reference to a day I've always loved and a day that will always partly define me – my birthday, April 23. Here's to another ten years at this little home on the web.