This was the summer Steve decided it was time for a new grill. Our propane one had just reached the end of it's life and sat all dejected and sad on our deck. A piece had broken off and after looking, Steve realized it was going to be such a pain to fix it that it was probably a good idea just to go ahead and bite the bullet and get a new one.
We decided to switch directions though and despite the fact that we did love the convenience of a propane grill, both of us agreed that we missed the good down home simpleness of charcoal. So out he went on a quest and eventually came home with a classic tried and true Weber grill.
I love it because it's small enough to not take up a ridiculous amount of space on the deck and even though you can't just fire it up and go, the taste of the charcoal is completely worth it.
Fast forward a few weeks after we got it and Steve decided he wanted to try and smoke a pork butt. So we gathered all of the supplies and get up at 5am on a Saturday morning to start smoking. Sixteen hours later we sat down to a beautifully smoked and delicious meal of pulled pork.
I knew we needed a side and I can't eat pulled pork without macaroni and cheese. And since he had put so much work and love into his dish, I figured I could step my game up a bit from our usual powdered Kraft mac-n-cheese (because I LOVE that stuff! All you foodies can pick yourselves up off the floor now) to some homemade stuff.  The problem I've always had with homemade stuff is that it's usually either too dry or too lacking in flavor. Until a few weeks ago when we went over to a friend's house for dinner and she served us this delicious flavorful macaroni and cheese that I immediately asked for the recipe for. She complied and pointed me towards this on All Recipes and said they had just modified it by adding crushed croutons on top.
So I knew I wanted to recreate this dish in our house when Steve decided to make his pulled pork. But as with any new recipe, I like to make substitutions according to our tastes and what I think might amp it up. I'm like the Tim Taylor of cooking, sometimes with the same disastrous results and sometimes with excellent results.
Needless to say, the macaroni and cheese dish that came out of our modifications was hands down the best homemade macaroni and cheese I'd ever had. It is one of the few leftovers that was completely finished before we had to throw it out (we are awful about leftovers – save for Thanksgiving or Christmas dinner we usually only eat them maybe one night before we're done with them). Also, just a note, it was totally Steve's idea to add the Swiss cheese and it was a wonderful decision  because, and I quote him, "It really lends a grown up flavor to the dish".
This ain't your Kraft dinner y'all.
Kristy's Only Homemade Macaroni She'll Eat

Adapted from Mom's Baked Macaroni & Cheese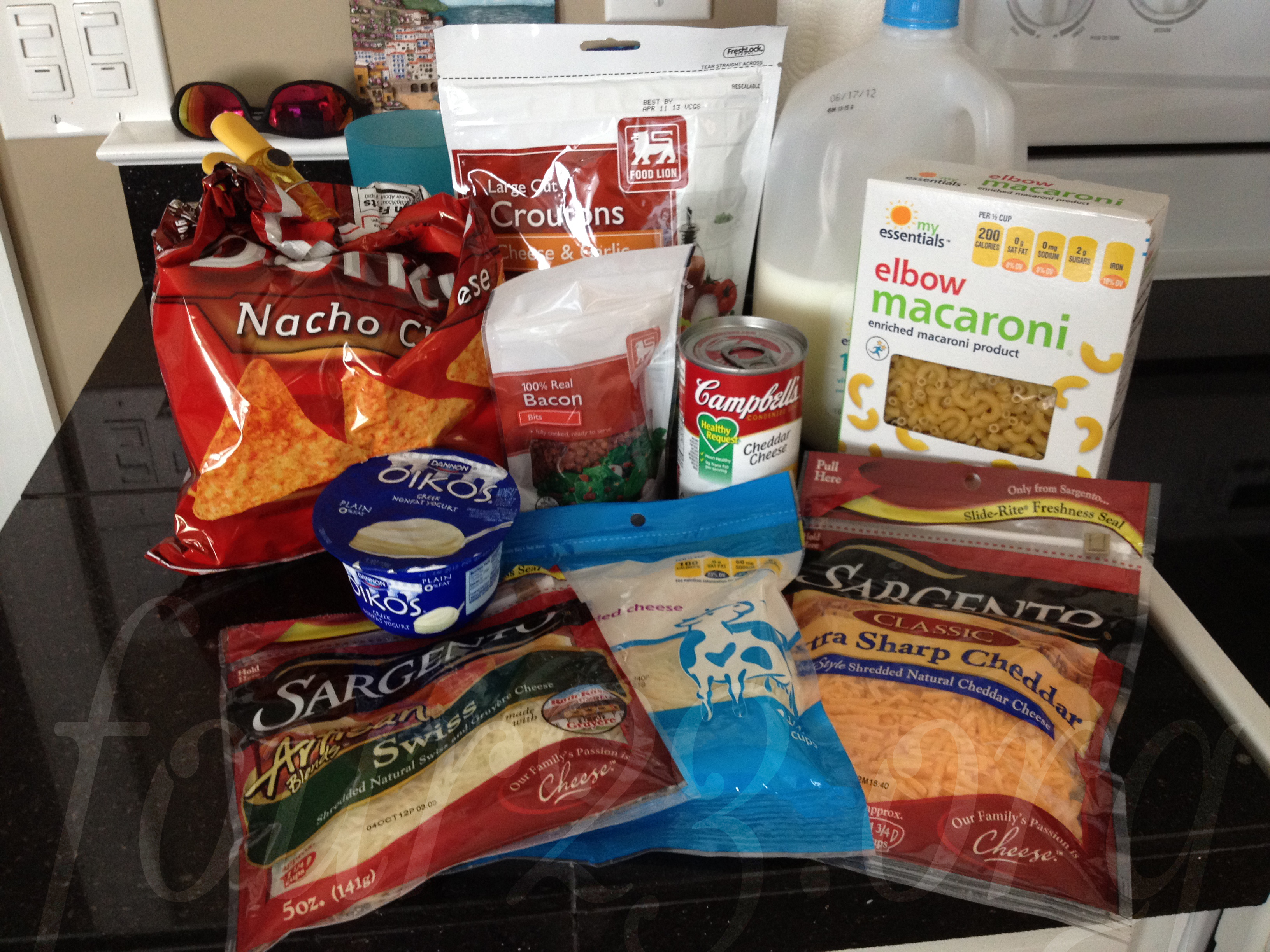 1 (16 oz) package of elbow macaroni
1 (10.75 oz) can condensed Cheddar Cheese soup
1 (5 oz) cup of plain Greek yogurt
2 (5 oz) bags of shredded Swiss cheese
1 ½ cup of milk
1 (8 oz) bag of shredded Sharp Cheddar cheese
½ bag of Cheese and Garlic croutons, crushed
Three or four handfuls of nacho cheese Doritos, crushed
1/2 c butter
Preheat oven to 350 degrees. Bring a large pot of lightly salted water to a boil. Add pasta and cook about 9 minutes or until al dente, drain.  While the pasta is cooking, mix the crushed croutons and crushed Doritos together in a bowl to make a topping. Set aside.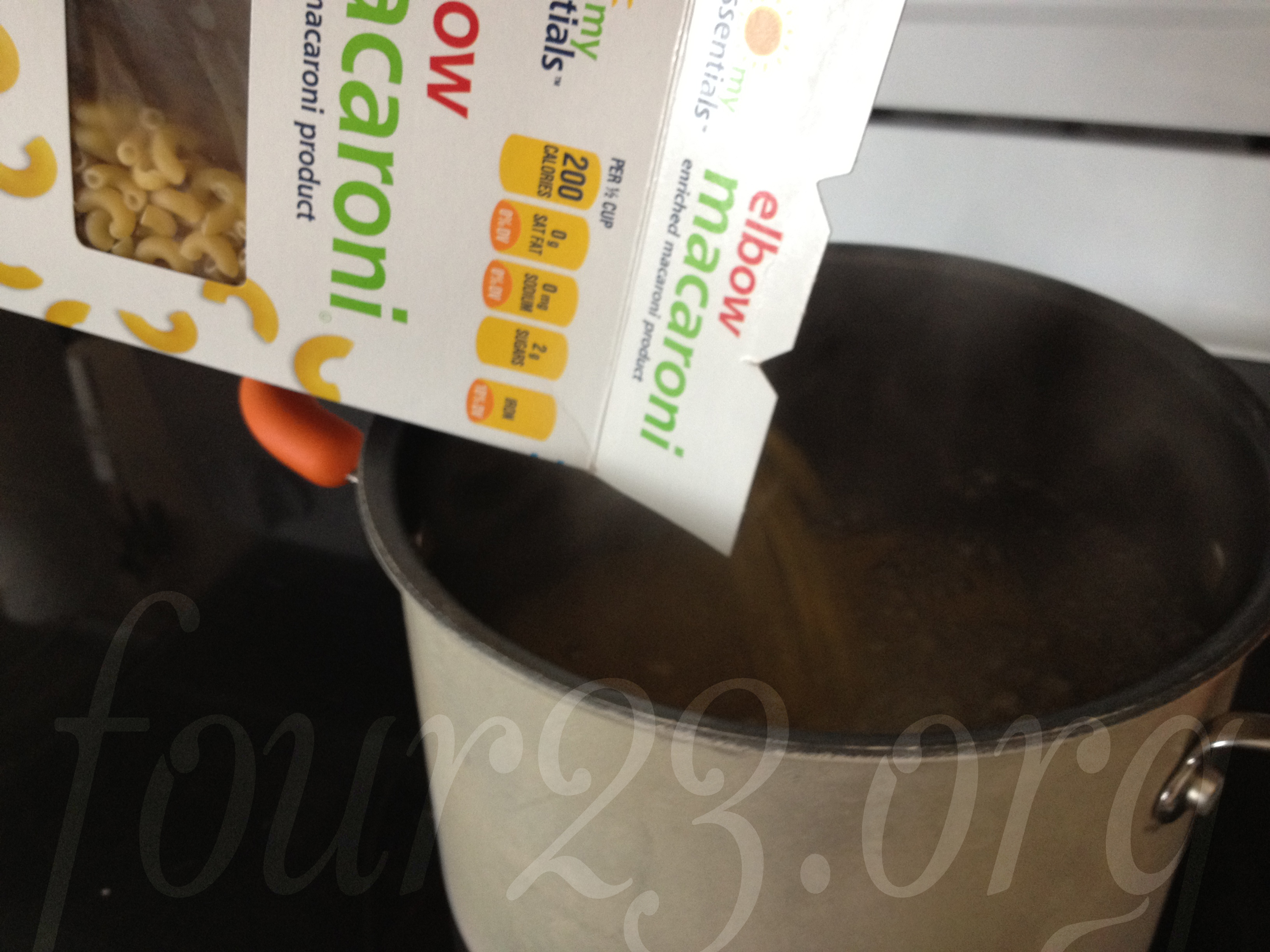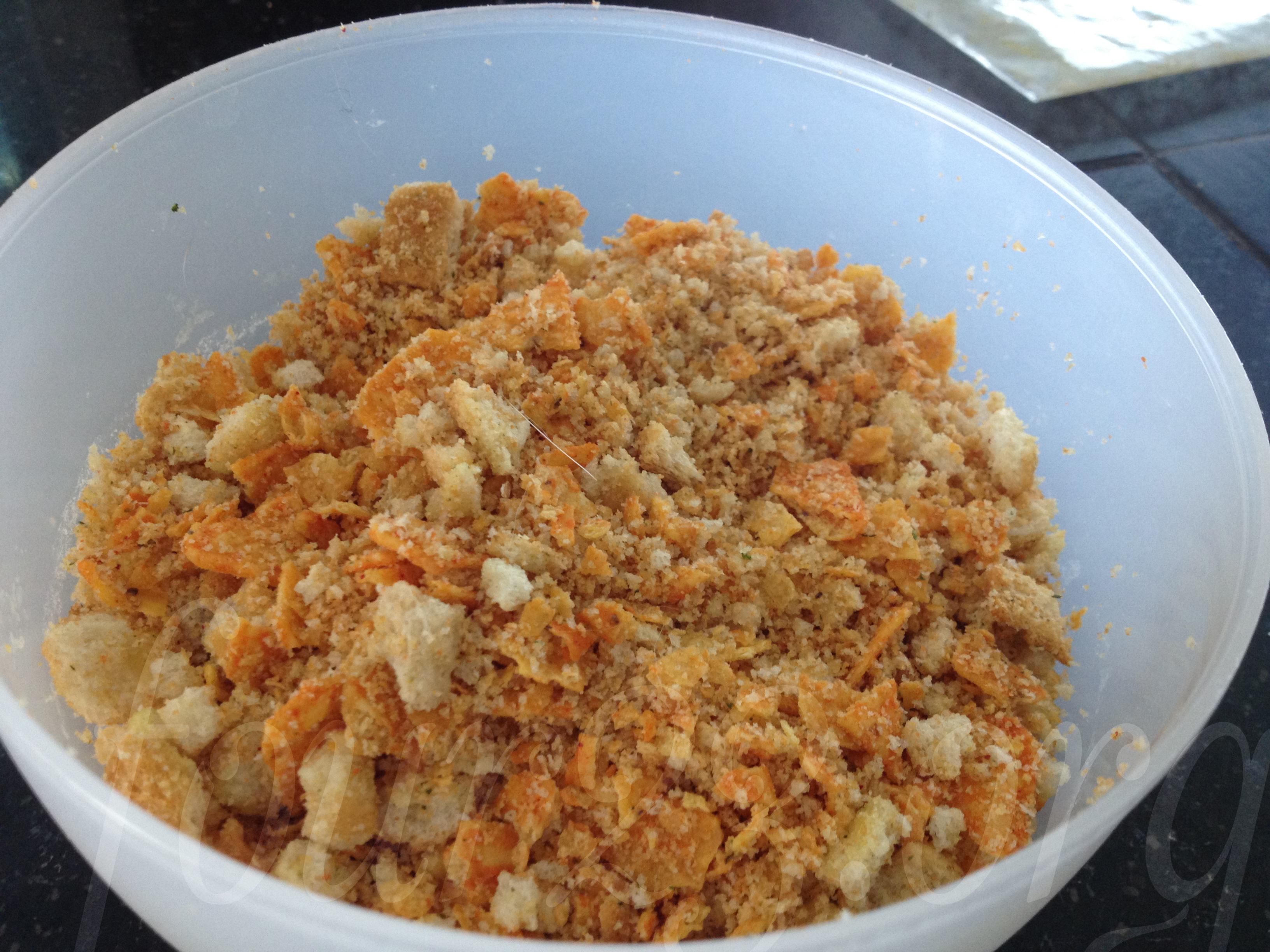 Place the hot pasta in a 2 quart casserole dish. Stir in the cheese soup, milk, yogurt and ½ of the shredded cheeses (about 1 bag of Swiss and half a bag of the Cheddar) until melted and creamy together. Top the noodles with the rest of the cheeses (you don't have to do the whole second bag of Swiss but just enough to get some of that flavor in the top).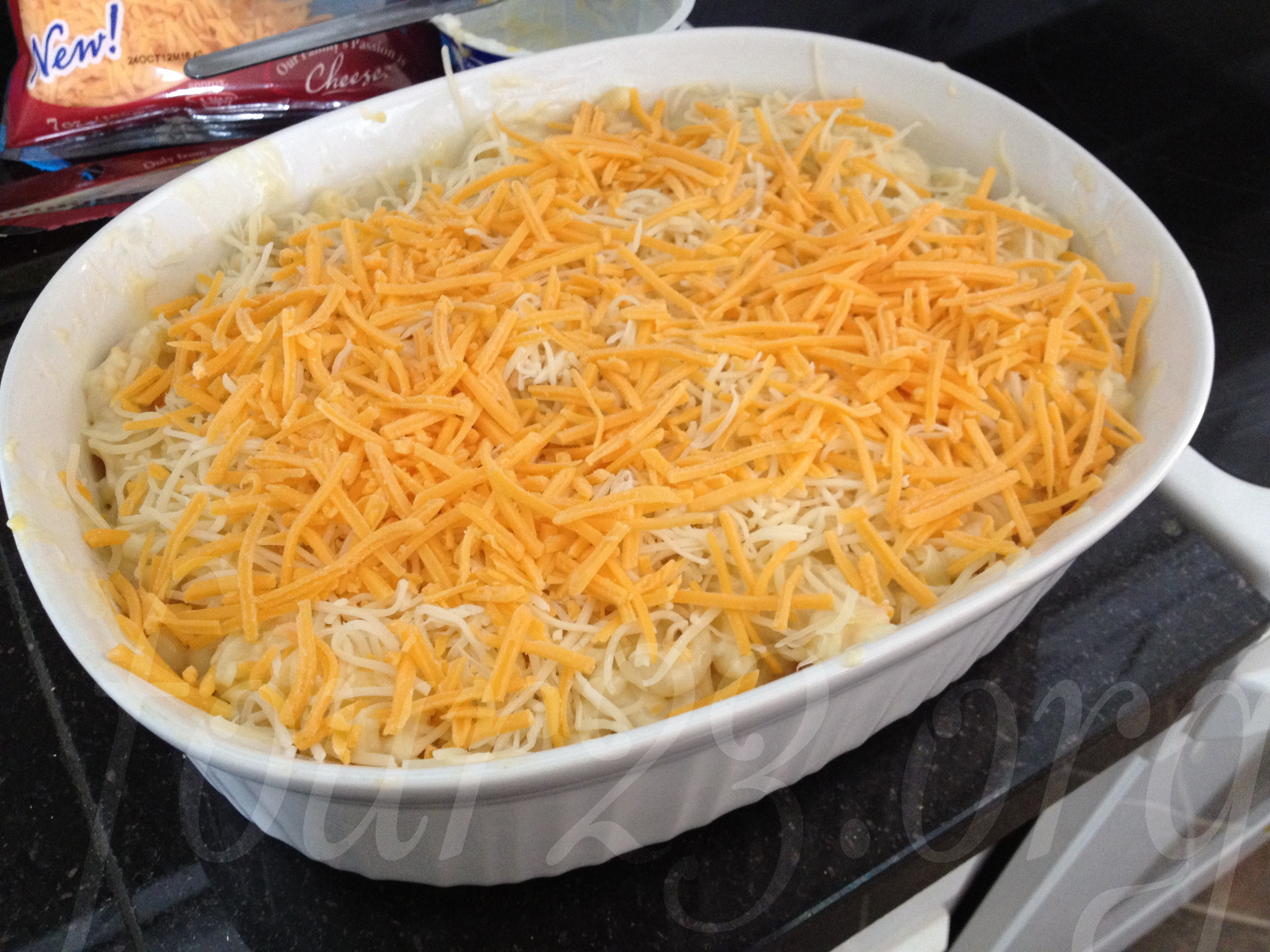 Melt the butter gradually in the microwave then mix it into the crouton/Dorito mix, making sure it's nice and saturated. Sprinkle the crouton/Dorito mixture over the top, covering the layer of cheeses.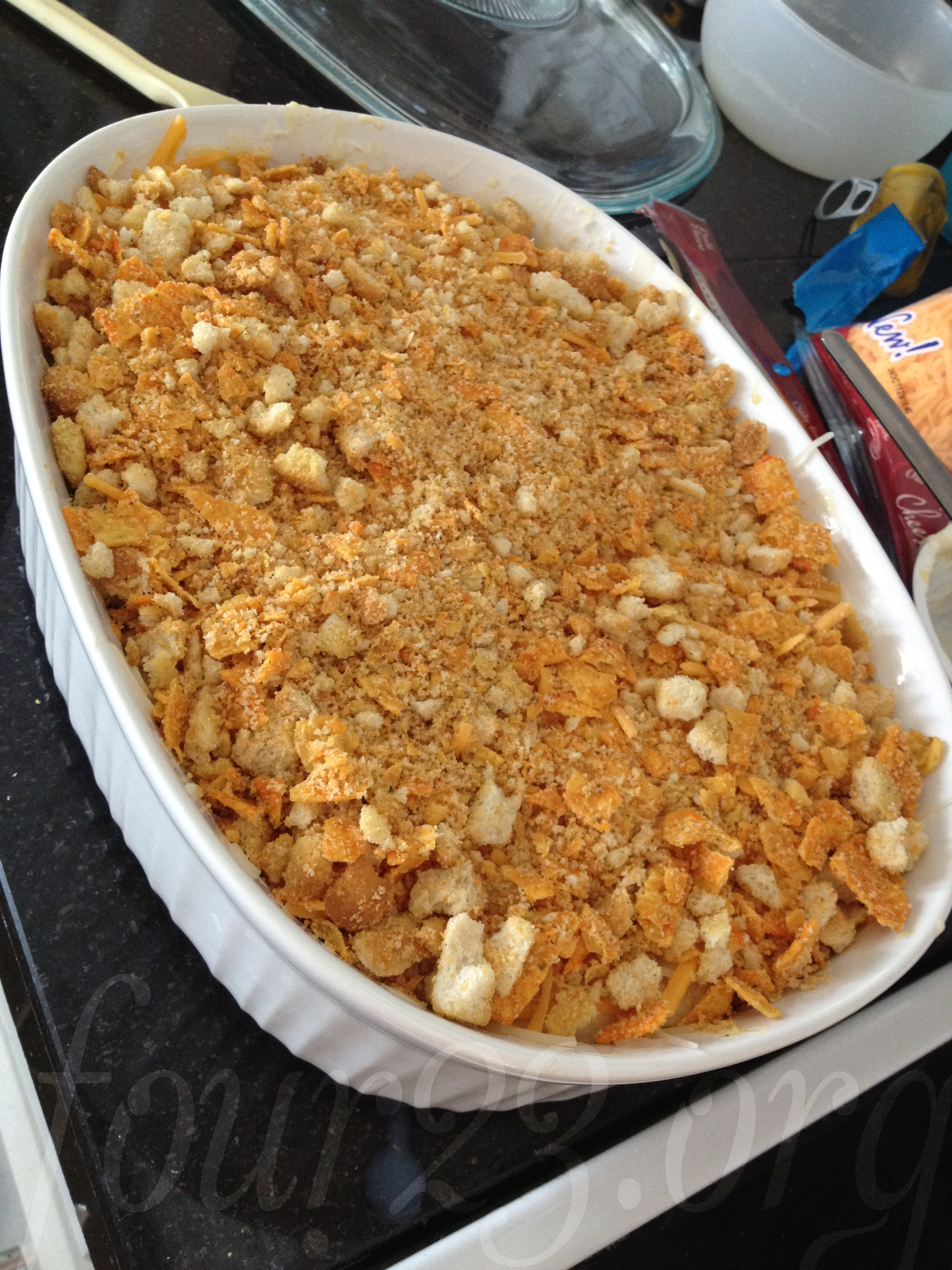 Bake 25 to 30 minutes or until cheese is brown and bubbly.
Enjoy! Serve with your favorite meat from the grill and make sure to go back for seconds. A dish like this deserves it.