With tomorrow being Christmas Eve, I guess it's probably time I show you what Christmas looks like in my house. There's a bit of old mixed in with some new. We're slowly building traditions of our own Christmas decorations. I am so, so pleased with how our decorations turned out this year. They make me smile every time I walk past them. So please join me in a tour of Christmas at Casa de Four23.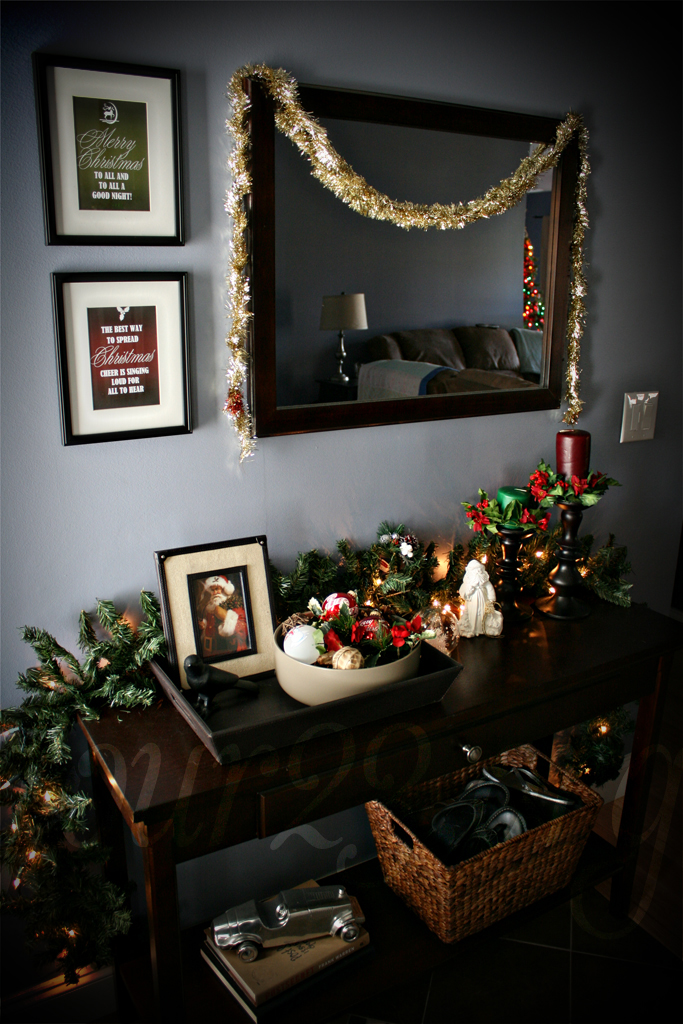 First up, the foyer table. I stuck with the same concept that I did last year because I loved how a lot of these elements came together. The basic elements are year round, I just switched things out and added in Christmas elements. The picture frame normally has a family picture but I printed out the on you see of Santa Claus (found it online somewhere, don't remember where). The two frames to the left of the mirror have prints I whipped up in, amazingly, Microsoft Word (I don't have Photoshop at work). They have two quotes: "Merry Christmas to All and to All a Good Night" and "The Best Way to Spread Christmas Cheer is Singing Loud for All to Hear". I took the normal bowl filler out and placed some ornaments in there along with some Christmas picks from Michael's. The lighted garland was handed down to me by my mother and so was the white Santa figurine, which I love. Top it off with some red and green candles, a few more Christmas floral picks and a drape of garland over the mirror and the foyer is done. (There's also a mistletoe "kissing" ball and a jingle bell wreath on our coat closet which I show later).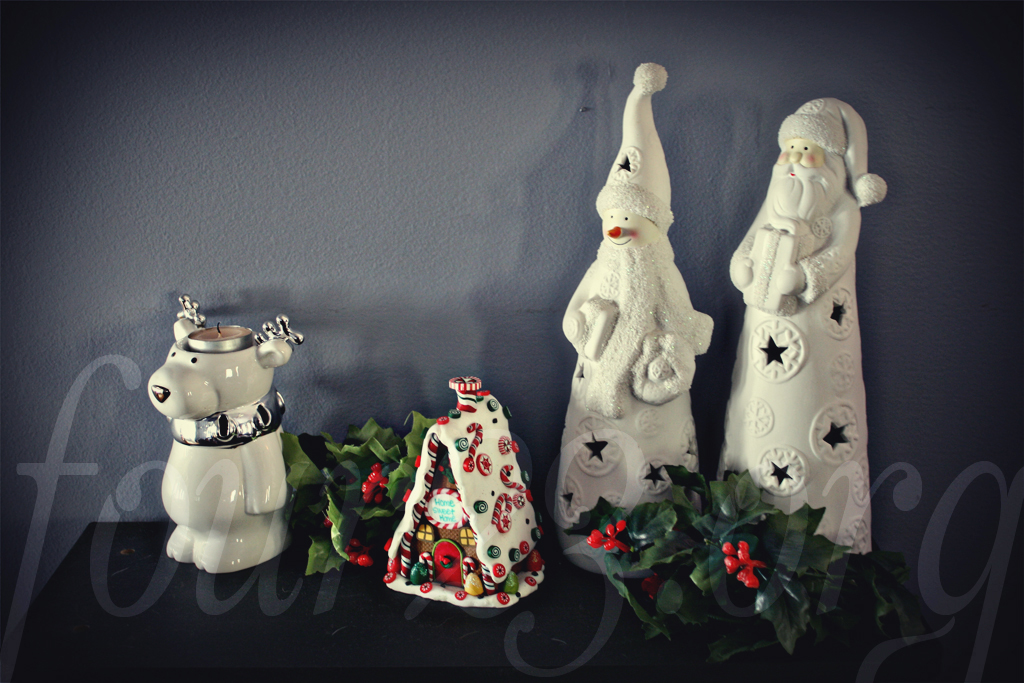 We have a small four tier shelf next to our TV that holds our small DVD collection. Because of it's placement it can be seen from our front door. Normally we have a plant here and a basket for a catchall but at Christmas it gets cleaned off and decorated with these guys. The reindeer is from Bath and Body Works and the snowman and Santa figurine were found at Michael's. The little gingerbread house was a present from my parents last year – it is such a cute piece.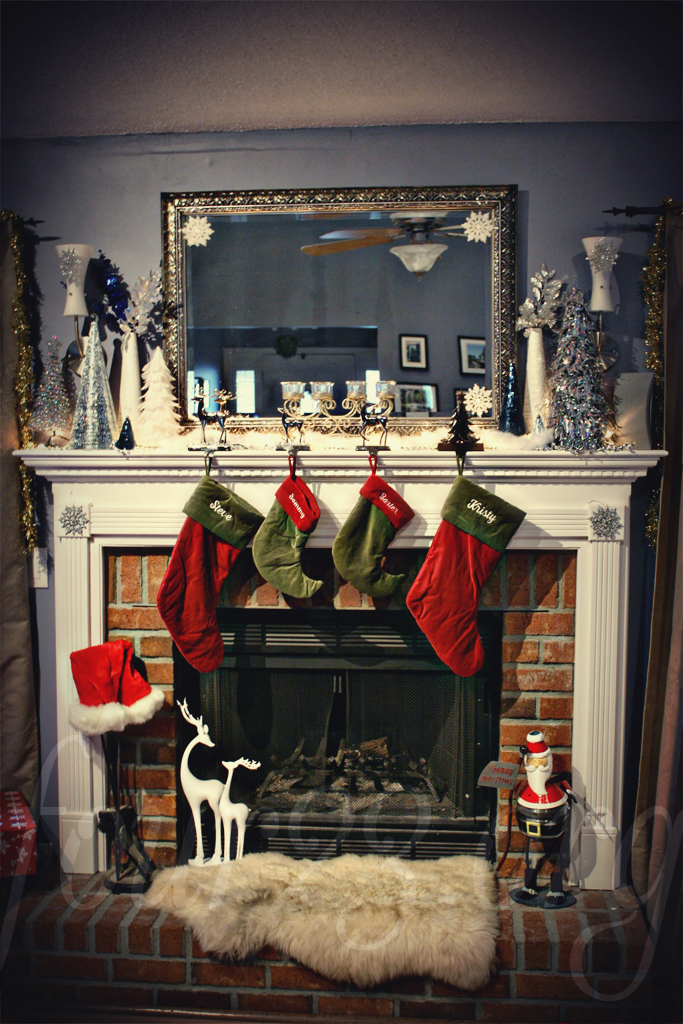 Here is our fireplace and usually the centerpiece of Christmas, aside from the tree. I might have gone a bit overboard with it this year. I was trying to fill in what felt like blank spaces around the trees on the mantel. I've amassed quite a collection of trees rather unexpectedly. As in, I never set out to start collecting them but it's actually kind of fun. The mirrored trees I got from Target a few years back, the tinsel tree came from Michael's, the sparkly swirly on the far left my Grandma bought from a restaurant in her small town and I don't remember where I got the feather tree. The two tall white vases were from Big Lots and I put some sparkly, glittery picks from Michael's in them. The candelabra is also from Michael's. I'm slightly upset because I have those three deer stocking holders and now that there are four people in our family, I had to substitute with that brown Christmas tree, which does.not.match. *Le sigh* But it'll have to do because I can't find a suitable replacement for it. The stockings are from Pottery Barn and are engraved with our names. The white deer are from Ginny's and the Santa was given to me by my mother-in-law a few years back. I don't think I'll add anymore to the mantle next year – I'm quite happy with how it came out. (Excuse the dirty rug – it's a drawback of placing it there in front of the fire and I haven't figured out how to effectively clean it yet.)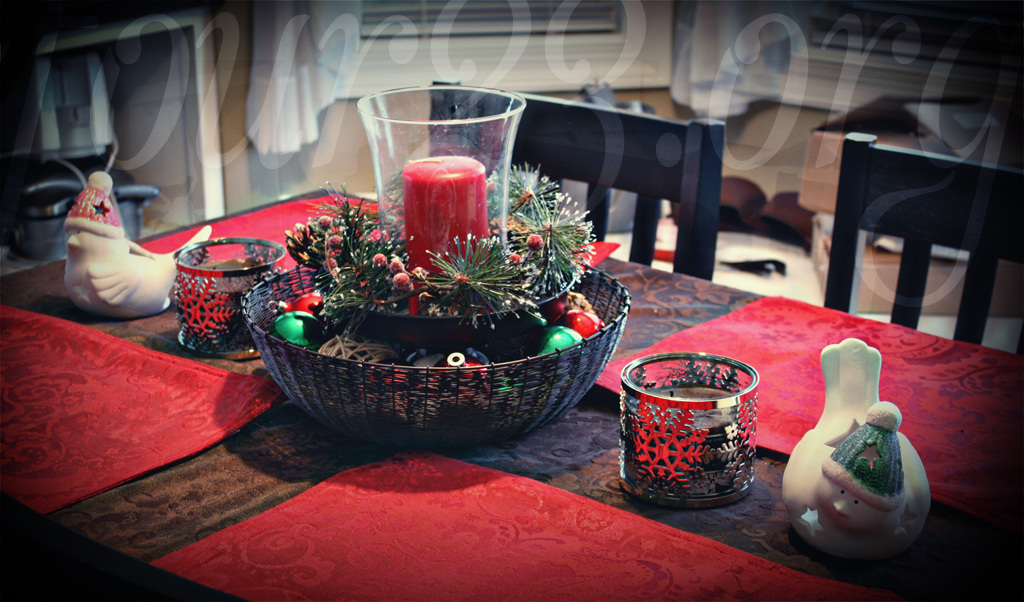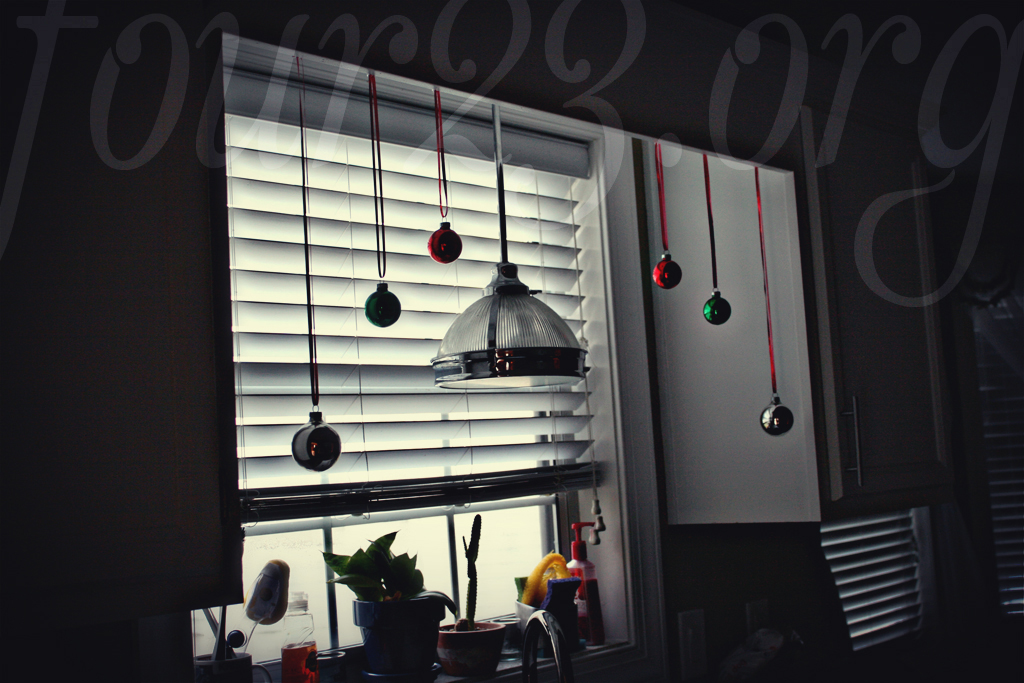 Even the kitchen didn't escape the spirit. The table is set with the "Christmas tablecloths". The lower bowl of the centerpiece is what we normally keep on the table – I just took that candle centerpiece that I bought from Wal-Mart and put it inside then placed some ornaments in the surrounding bowl. The candles and sleeves are from Bath and Body Works and the little porcelain birds I got from Big Lots. The window shown is above our kitchen sink and I adapted the ornament idea from something I had seen on Pinterest. With us, it worked because we have that piece of cabinet that joins the outer parts of the two cabinets on either side of the window. I love the way these ornaments make it seem so festive and they were so simple.
Finally, the pièce de résistance – the Christmas trees! Yes, I said trees!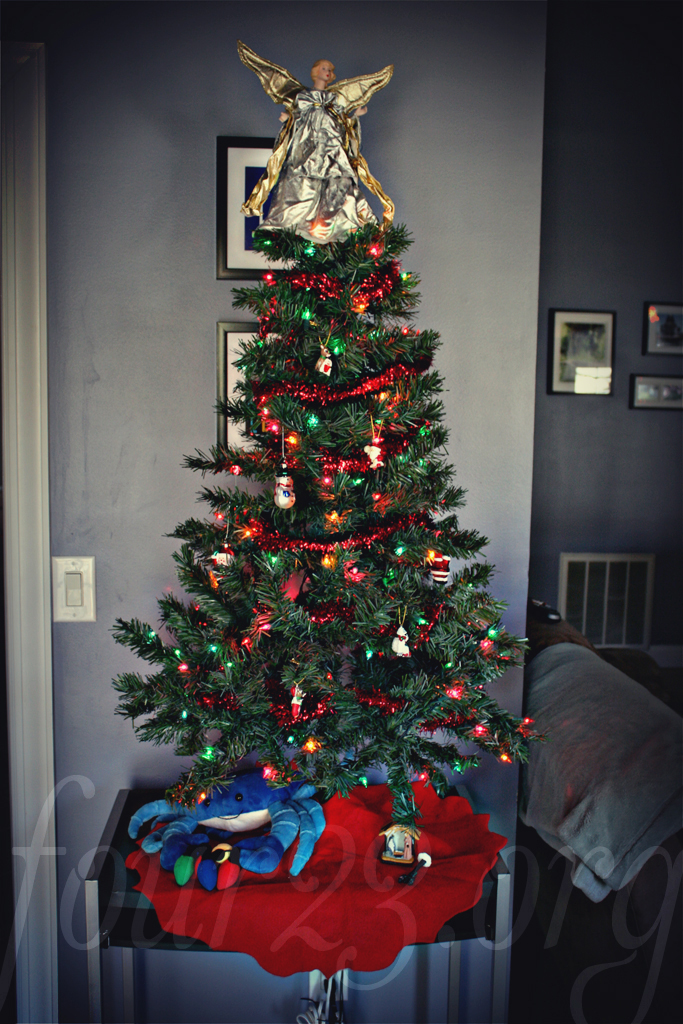 This tree is a little four foot one that I bought when I lived in my 500-sq-ft apartment in Philly and didn't have room for a normal size tree. For the longest time we didn't put it up after Steve and I moved into together but last year, as he was helping me with the decorations, Steve put this up himself so I figured I'd follow tradition and do it again this year. It's very light on the ornaments, only about two small sets ad the garland is from the leftover pile. The angel was handed down to me by my mother and the blue crab I got this year for free from the Festival of Lights (it was a gift if you spent a certain amount). I love that this is the tree I used when I lived in my first apartment by myself and now we can put it up in our very own house.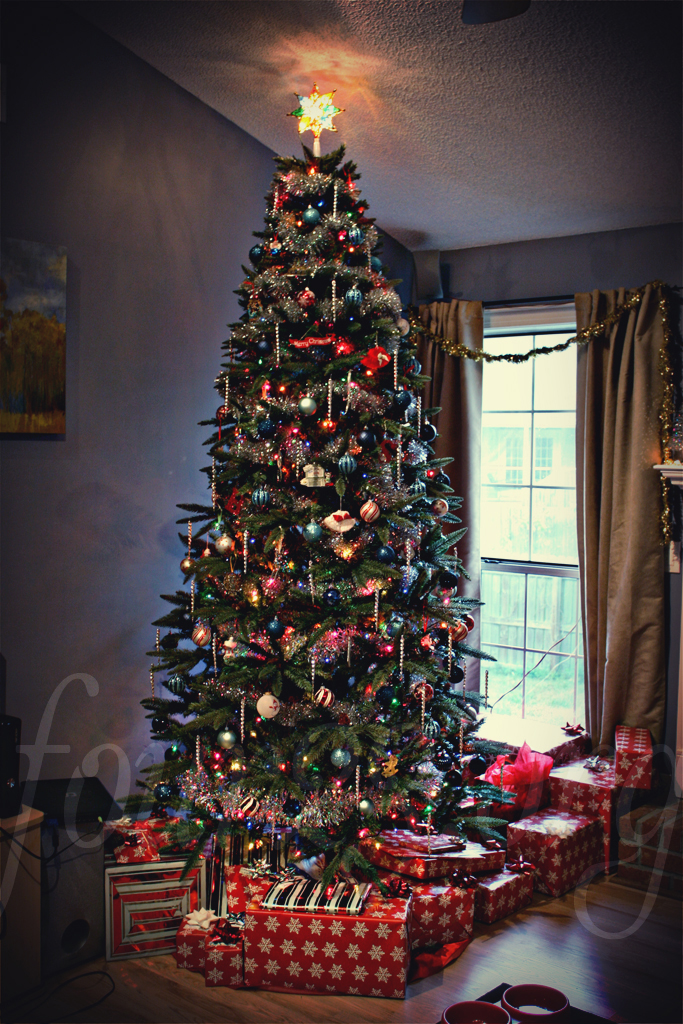 This is the real tree and I am so over the moon about it. I love the way it sparkles and shines and twinkles at night. I love that everything seems to kind of go together without it being an overall "theme" and letting me put my sentimental ornaments on it. I love that it's nine-feet tall (our old one was a six footer handed down to me from my parents that had seen better days). I got a screaming deal on this one and while it is so huge and pretty, it was kind of a pain to put it up and decorate by myself. I may try to make sure I do it on a day Steve is home next year. The presents are, of course, temporary but it's kind of nice because with the tree being so tall this year, we had to pull it out from the window which gave us more room to spread out behind it.
Here's some wider views:
And, it can't be Christmas without a place to put the Christmas cards! We do it simple and put them on refrigerator. We just don't get enough to justify me having a designated place for them. Beside, I'm in the refrigerator at least once a day so it's nice to be able to see them there.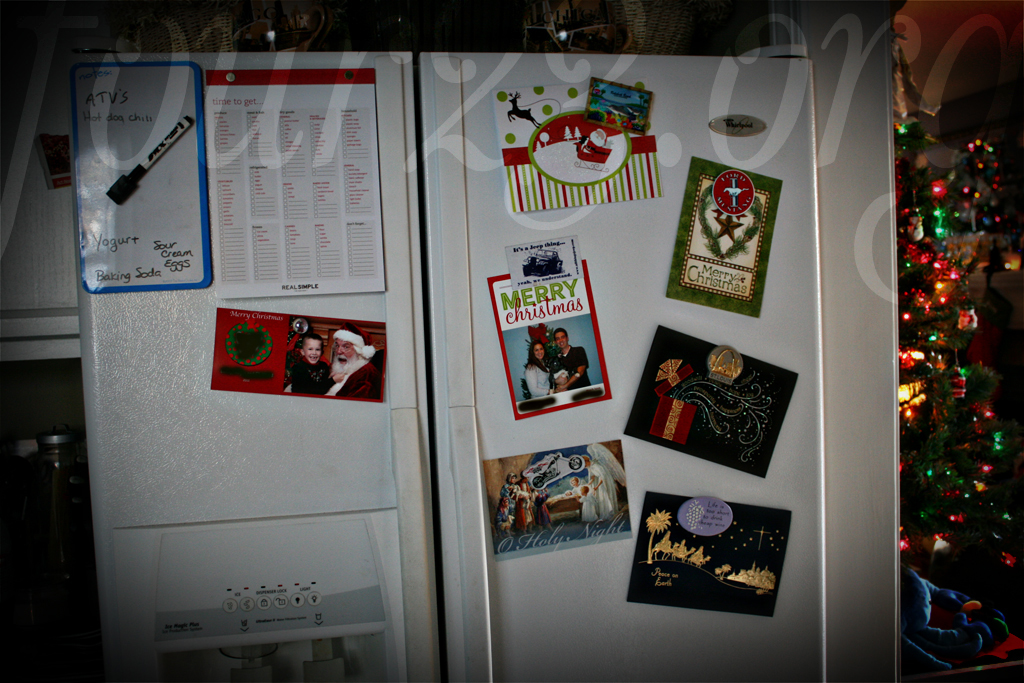 What do you think? Christmasy enough? Do you think the mantle is too cluttered? How about you show me your Christmas?