I'm usually pretty consistent (*cough* lazy *cough*) when it comes to decorating the house. Things get added gradually and I usually don't change things around often. Even seasonal decorations are rare. I mean, Christmas is obvious but it's usually the same setup every year. Halloween gets a few things tossed around but I don't go big unless we're having a party and we've only had one of those because it was a pain in the ass to plan and prepare for (I guess I probably could have not overdone it as much as I did!).
Regardless, things usually kind of stay the same around here. Except this year, I really wanted to get into the Autumn spirit because I was so excited about the season change. I was over the hot weather and the godawful humidity and I just woke up one weekend wanting to do everything Autumn and ended up going to the store and buying all sorts of decorations and then coming home and putting them up and making an apple crisp and then I was done.
But I am so in love with what I did and love that fact that they can last me through Thanksgiving. They make me smile every time I walk in my house. And I've also been lighting Autumn themed candles and put Leaves and Spiced Cider in my Wallflowers so the whole house always smells spicy and cinnamony and cozy.
Everything except the little pumpkins I got from Michael's when they were having a fabulous 50% off sale. When that candle is lit, the Harvest letters glitter and sparkle so much.
I love this little owl. I have an obsession with owls lately which is fine because I did go to Temple and the owl is our mascot. (TUMF!) Anyway, got the owl from Marshall's for like $8 and I put one of those electronic tealights in it.
I normally keep this bowl full of bowl filler thingys but couldn't resist spicing it up with some glitter pinecones and mini pumpkins and leaves. The little mini leaves I found at Wal-Mart while the pinecones came from Marshall's.
And now for the pièce de résistance …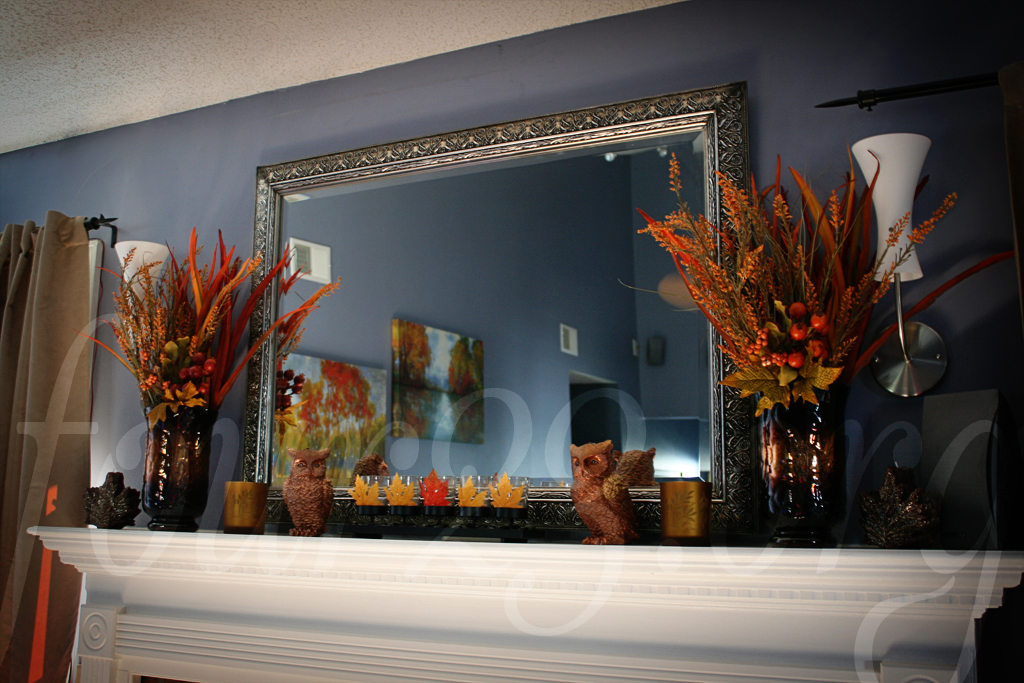 I am IN LOVE with the mantle! Seriously, I sit and stare at during commercials on TV. The vases and fillers were all on sale at Michael's. The owl candles – HOW AWESOME ARE THEY???? So so pretty! I got those and the glittery leaf candles on each end from Michael's. And I've since replace the gold votive holders with some handmade pottery we got in the mountains that makes it even prettier but haven't gotten around to taking pictures of them yet.
So how about you? Are you all decked out for Fall or do you prefer to wait for Christmas? Show me some pictures! Would love to get inspiration for next year.