I really had a lovely day today! I woke up expecting to do our usual Saturday humdrum (clean the house, surf the Internet, play video games) but Steve asked if I wanted to go fishing and I figured why the hell not? It had been quite some time since we spent quality time together and I could go for a little soaking in the sun.
We were able to make it out the door around 8:30am, which gave us time to stop at Chick-Fil-A for breakfast and CVS for sunblock before we headed over to one of our original fishing piers that we hadn't been to in awhile. We were overjoyed to see it was empty because it meant we could get all the way to the end and not having people knocking into the rods or being all loud and scaring the fish away.
So we set up shop and get settled around nine am. It's much less humid than I thought it was going to be but it was probably around 85 degrees or so. This is a good day for South Carolina summers. Plus, there was a wonderful breeze right near the water so it was nice enough to be in the sun without feeling like you were going to die from heatstroke.
I do need to point out that when I say "we" went fishing, what I meant is Steve fishes while I hang around and watch or read a book or something to that sort. I don't mind fishing but I won't touch live bait (which is usually fine because we use dead shrimp or squid – fresh but dead) and I'm not too keen on unhooking fish (Steve throws them back – it's more for sport than anything). I have the attention span of a gnat and the patience of a small child so actually having to wait around for the fish to bite just isn't my cup of tea. Plus, you need a fishing license and I don't have one so I had to be content with enjoying the weather and the company and reading. And I couldn't have asked for a better day to do it all.
The only problems we had were basically due to asshole people and their entitled asshole behavior. Let me tell you something, you want to watch a gathering of idiots, go to a boat landing. I can guarantee you'll see about 60% of people who know what they're doing, 40% who have no clue and 10% who just don't give a fuck about anyone but themselves. It's those ten percent that are the most irritating.
So we're fishing off the end of the pier. This pier is right next to the public boat landing. You are allowed to fish off it so we were where we're supposed to be.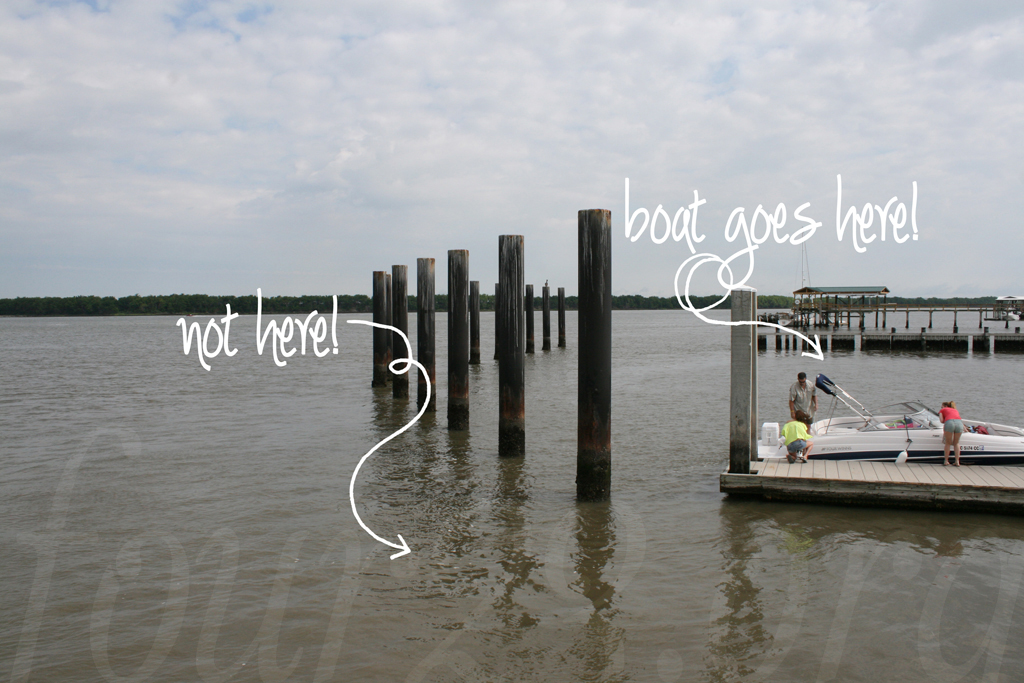 In the picture above, you're looking at my view from the pier. To the right are the boat ramps. Those post create the in and out lane for the ramp. You're only supposed to exit in the far back where there's an open path. You're not supposed to exit between the posts. And if you tie off, you're supposed to do it inside the loading area. (See where I said "boat goes here!"). You're also not supposed to come out of the landing area and loop around to the open water so you can pick people up from the outside (where I indicated "not here!"). Not only is this a narrow channel that gets shallow at low tide but it interferes with those fishing off the pier and you're not supposed to obstruct that area.
So we're hanging out, Steve's got two rods set up and he's got a line cast right out into the general area where the boats are not supposed to go. And here's comes this douchebag idling up in his center console boat to come around and try and pick up his passengers. (Note: they do this because it gets slightly crowded inside the landing area on the weekends with so many people loading and unloading. It's always doable it's just a matter of waiting your turn.) And even when we yelled and were gesturing for him to back up, he kept coming right over top of Steve's line. And I reach down and picked up rod thinking I could pull it back but no sooner did I do this than something on the guys boat caught up the line and I felt it go taut. I tried to grab what I could to save the rod but unfortunately, my fingers wrapped around the top where the line is threaded and as soon as I started to feel the burn, instinct kicked in and I let go watching in horror as the rod flew over the end of the pier and disappeared into the water.
Meanwhile the guy putters back around to the landing area without even yelling an apology or anything. I don't even know if he realized he caught Steve's line.
I felt badly because the rod was gone but Steve assured me that all was good and that it wasn't his expensive rod. Then I realized my fingers felt like I had placed them on a hot oven burner. Apparently, I could what you could equate to pretty wicked rope burn on my fingers. I actually had to spend a good chunk of the afternoon clutching ice cubes because it burned and tingled so bad. Steve said I was lucky though because with the 30-lb test line he keeps on those rods, I could've lost my fingers if I hadn't let go when I did. I mean thank god for that but I've still got war wounds. And it definitely made me want to go and find the guys truck and slash his tires.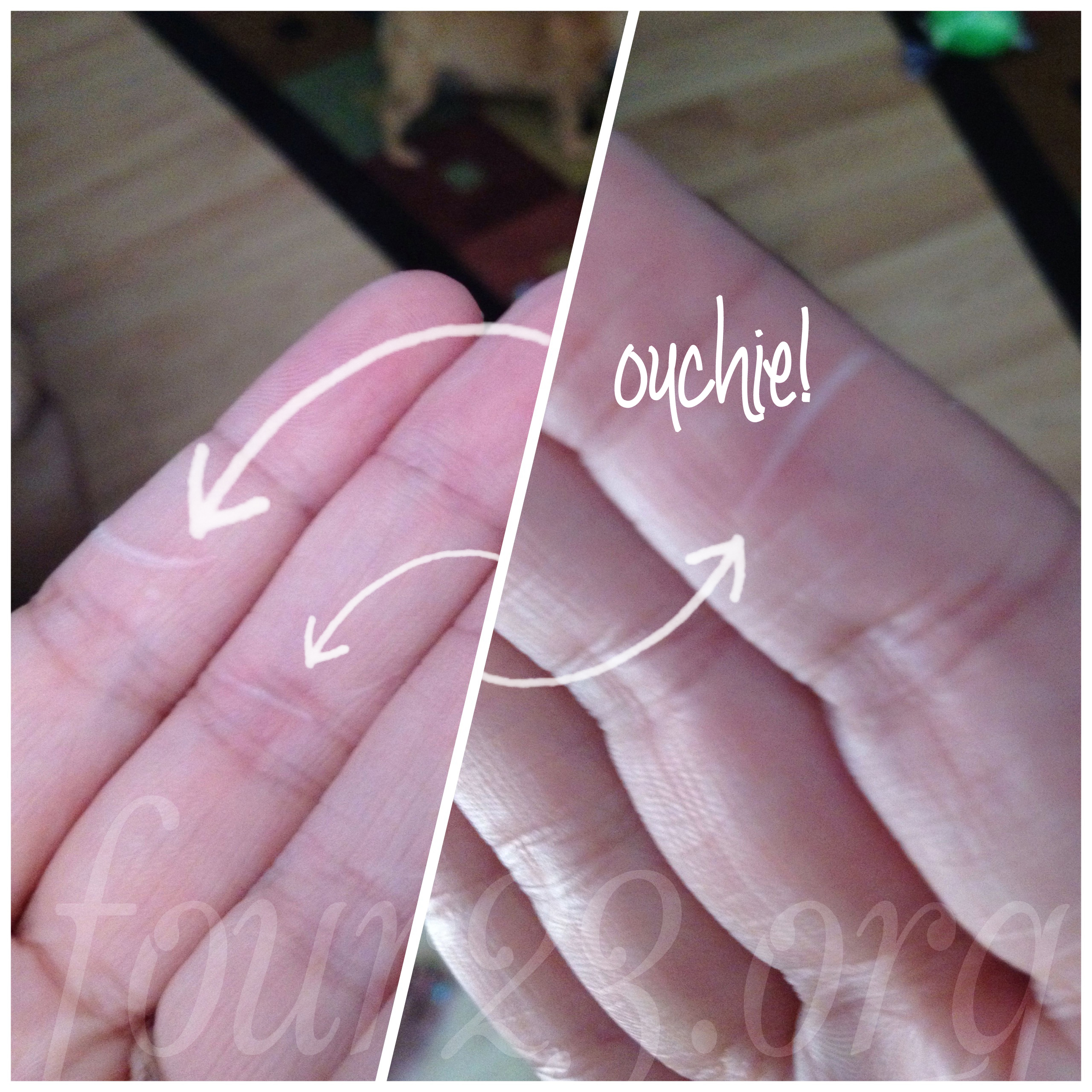 I didn't though. I just assumed that at some point karma's going to come back and bite him in the ass and he better hope it's not a fishing rod that gets tangled in his motor and jacks the whole thing up while he's sitting in the middle of the river.
Then … THEN, like an hour later, some kinds tried to do the exact same thing and when we waved the dude back, Steve yells, "Hey man, you can't be over here! There's no tying off on this side" and his passenger, with an attitude, is all like, "We're not tying off, we're just picking up!". So I had to yell, "Same difference. You're not allowed to be on that side, period, and you're gonna snag our lines. Don't be a dick!"
And yes, maybe I was the one being a dick but my fingers hurt!
Steve kept fishing for a little while and I kept people watching. There were young kids with boats way to expensive for them (probably more expensive than my car). There was one lady who had a bass boat and her two Chihuahuas took point up front and were keeping watch.There were dudes who came in on a boat that looked like it had been sunk fifty times AND eaten by Jaws and they went right back out after unloading what we assumed were either crabs or oyster hauls.
There were two guys I watched for a good half an hour because one of them was in the wheelchair and was left on the dock with the task of watching the boat while the driver went and parked the trailer. Which means all the dude had was a piece of rope attached to the boat that he was using to keep it steady and propel the boat straight and keep it from bumping the dock. I had this hope that the boat wasn't gonna just take off and pull him in but he looked like he knew what he was doing so I took to calling him Lt. Dan and kept saying to Steve, "I wonder how they're going to get Lt. Dan on the boat. There's no ramp from the dock to the boat itself." I don't know why I was concerned with this, probably because I wasn't fishing and didn't have anything else better to do.  (Turns out they just roll him to the side and his buddy kind of heaves him in then brings his wheelchair in separate.)
Also, I was the self-appointed boat police because I was judging EVERYBODY. Like the lady who didn't put life jackets on her kids. *shaking my damn head*
We eventually left around one o'clock when a group of about seven people joined us on the pier. They like came and set up shop, putting chairs out and spreading their crap all over and being all loud and running up and down the metal pier, causing their footsteps to echo. It was annoying and we did what we always do when we don't feel like dealing with the public anymore – we got the hell away from the public.
After that successful venture, Steve took me down to show me the new park they opened near where the shrimping boats came in. We walked that for awhile and I took some pictures. Saw some pelicans and even got to see the dolphins gather around the shrimp boats looking for food as they offloaded their catch and cleaned off the excess. It was a beautiful park and I'll definitely be heading down there more often to get some pictures.
Also, not gonna lie, totally asked where Jenny (pronounced JEN-AY like Forrest) was. Two Forrest Gump references in one day. I am awesome!
Once we got home and got showered, I went back out to the mall to return some stuff. Spent about ten minutes finding what I needed and close to THIRTY MINUTES in line. Because there were TWO registers and at one register, there were two purchases being rang up and the ladies were just nonchalantly gabbing with the cashier. Not a huge deal but seriously, come on? But at the other register, the customer had brought all of her purchases up but felt the need to ask how much each one was (forget that there were price tags ATTACHED TO THEM!), take stuff off, add stuff on and then, at least three different times, walked away to grab something else (I believe she was trying to hit a dollar limit for a discount). It's like REALLY LADY?! Come the hell on. You couldn't figure that out before you got in line. And the worst part is she didn't even apologize or anything. Just stood there doing what she wanted as a line formed behind her and you could tell she intended to take her sweet old time.
What made me even more stabby is that the cashier LET this happen. I've worked retail and I had that happen before and the first time a customer walks away from my line and halfway across the store, I void the entire transaction and take the next person in line.
ANYWAY …. It was probably time for me to come home and get away from the public, which I did. We're going to spend tomorrow smoking some chicken on the grill and making some homemade macaroni and cheese and fresh broccoli so we're prepping for that. I gave this site a facelift and finished some of my reading. I'll probably also spend tomorrow doing my weekly cleaning and refreshing of the house. I just prefer to go into the first of the week with things in order.
Overall, aside from the stabby parts, it was a lovely lovely day and it's my goal for us to keep doing this at least once a week this summer. Sometimes you just need to get out and soak up the sun!