I don't know if you remember, but I kind of got married a few months ago. And everything about that day was perfect. I couldn't have picked a better, more appropriate way for us to tie the knot. Married life has been awesome because frankly, it's not much different from our non-married life. It's just now we get to call each other "Wifey" and "Hubby" and wear extra, sparkly (in my case) jewelry.
Because we didn't have a real wedding or a chance to celebrate with all of our friends and family (and because my mom likes any good excuse to have a party), my parents actually offered to throw us one. We agreed but had some boundaries – we didn't want it to be a wedding or reception. We weren't going to do dances or garter tosses or bouquets or anything like that. I wasn't going to wear a dress. We just wanted something simple and low key and us.
Well, thank god I kind of left the rest up to my mom because what she came up with was nothing short of amazing! I was apprehensive that it was going to be a bit over the top. I mean, we were talking backyard BBQ and stuff. But what my parents threw together in the course of two months turned out to be an awesome night of food, friends, family and fun. We had an absolutely beautiful location, an ideal Charleston setting with the water and the sunset and the palm trees. We had excellent food and a well-stocked bar and a DJ who kept everyone on the floor dancing, despite not having a cool breeze and it being hot as Hades, as is common here in the Summer.
Ultimately, we all had a blast!
We had people come from near and far to celebrate with us. I got to spend four days with my brother and sister-in-law and my lovely niece, all of whom I haven't seen in almost two years. We had old friends from high school and college, new friends from here and family from all of my three sides. We got to mingle and socialize and eat and drink and dance into the night.
And we are absolutely overwhelmed with the love and joy we feel from all of the friends and family who came out to celebrate with us. We wouldn't change the way we got married for the world we are so very glad we decided to have a party with everyone afterwards because it really made us feel loved and lucky to have so many wonderful people in our lives.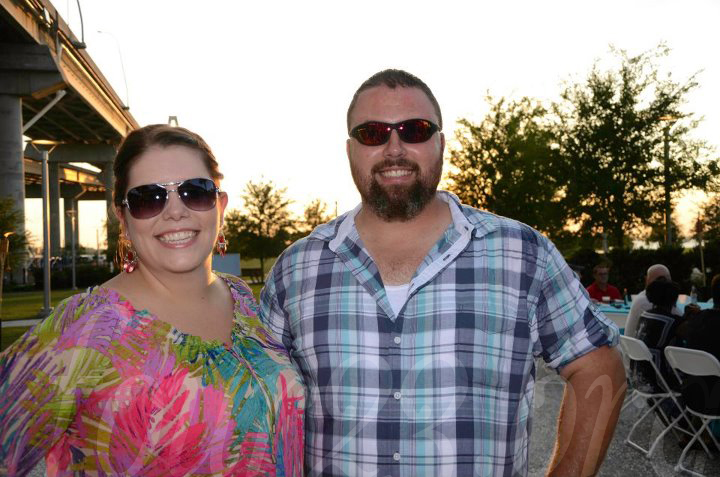 To my Mom and Dale: Thank you for everything! Thank you for throwing something so wonderful together in such a short time – I know how hectic that was. Thank you for loving us enough to respect our decision and our wishes but also for showing us that needing to celebrate it with those we loved was important too. Thank you for being happy for us, for accepting us as husband and wife, for not freaking out when we surprised you with the news  (J) and for being proud of us. Thank you for the gestures, for the small privates one and the large public ones. Thank you for always being there for us and never giving up on us. We are so very thankful to have people in our lives who only wish us joy and happiness. And thank you for showing us how important it is to drink and dance and get down! I count myself as very lucky to have such wonderful people like you as parents and I know Steve feels the same way. We love you both so very much. Thank you for everything you've given me and give us so far and everything you'll do in the future!
To Tyler: Thanks for being such an awesome brother! Thanks for coming out and hanging while the grownups got drunk and acted silly. And thanks for driving Mom and Dale home! LOL
To Grandma, Dad, Alex and Sandy: It was wonderful to see you all and I only wish we had more time to spend together but things were crazy with everything going on. Thanks for hanging out in the heat, especially Alex, who, unbeknownst to us, was three days away from having my niece (and five hours away from home!). Love you all!
To Mike, Jess and Kayla: We cannot begin to tell you how much it meant to us for you all to be there to celebrate with us and to get to spend the weekend with you. We really did have a great time and would love it if we could live closer so we could have more weekends like that. And so we don't have to say goodbye, because God knows, that is not something I enjoy! J We love you guys and it really does mean the world that you were there.
To Bryon & Chris: As always, it was awesome to see y'all and it means so much to us that you would come down to celebrate the fact that I won't be some old lady living with all her cats. I fully expect the video to be edited with all of the witty commentary that I know you're so good at. Thank you again for coming and braving the heat and being a soundboard for the hurricane that I know Mom turned into the closer the party got!
To Terrie, Randy and Amanda: We really don't get to see enough of each other and I only wish we'd had more one on one time. That drive is such a pain so we feel extra loved that you came down to celebrate with us. Thank you for helping Mom and Dale pull this off and thank you for checking in on Facebook! J
To Chrissy and Sedreck: Being a military kid, if you would've told me thirteen years ago at my graduation party that you'd be attending my marriage celebration, I would've looked at you like you were crazy! And yet there you were, despite having tried to lie (badly, if I do say so! I know you to well!) and say you weren't coming. The fact that you wouldn't miss it only solidified the fact that we may grow up and grow apart but we can always pick up where we were, whether it's on Girls' weekend or teaching me to drive stick or listening to Hanson in your bedroom. And thank both of you so much for helping my mom out – we have our favors on the mantle and will always think of y'all when we look at them! Love you both!
To our second family – Henrietta, Frank, Brandon, Marcus, Lindsay (& Josh, who couldn't be there), Erin, Sarona, Al, Denzel and Tyra: We love you guys and as always, loved being able to share this with you all. Can't wait for Josh and Lindsay's big day – maybe we'll give you the bet money then Frank!
To our Pennsylvania friends – Bierman, Amanda, Buff, Jay and Lindsay: We've come a long way from the days or partying up at Granpop's. It says a lot that you all were willing to come down and that means a lot to us. As always, you are welcome at any time, and Buff, next time, no day drinking! LOL  Love you guys!
To our South Carolina friends – Amy, Joe, Libby, Geoff, Ann, Hatch, Margo, Chris, Mary Alice, Gerri, Ken, Rosana, David, Chrystal, Troy, Melisha, Josh and Shawn: When we first moved down here, some of the biggest apprehension we had was finding another group of friends that were as awesome as the ones we had back in Philly. And six years later, I can happily say that we have far surpassed that and have been lucky to find some really awesome friends. Each one of you are special to us in your own way and I can only begin to thank you for being there for us. We are so very lucky to have each of you in our lives!
To those we invited but couldn't make it: We definitely missed having you there but completely understand that these things aren't always conducive to everybody's schedules. We have so many awesome people in our life that the world might have imploded a little bit if all of those wonderful people were in one place at one time anyway! We love you all and can't wait to get a chance to see each and every one of you sooner than later.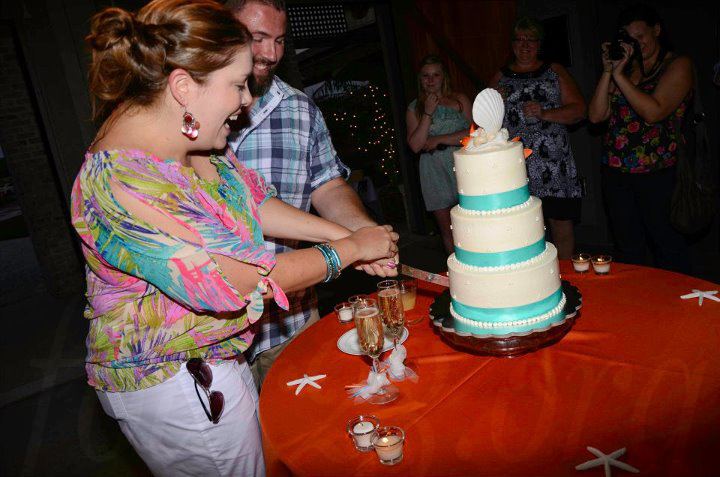 And finally, the party wouldn't have been what it was without the amazing people my mom found to provide the food, booze, music, cake and make the party go smoothly.
One of our good friends, Libby, is an extremely talented pastry chef and she made our beautiful cake. I still cannot get over how pretty it was and fit with everything. Aside from the fact that she makes amazing desserts, she is a pretty awesome person. If you are in the Charleston area, you should totally check out her business, Immaculate Confections. There is nothing she has made that hasn't made me want to die from bliss right there on the spot.
Thanks to Saskia of A Simply Special Occasion for coordinating everything and letting everyone, including my parents, participate in the fun and enjoy the evening. To Sinclair of The Music Maker who spun some great music, kept everybody dancing AND got out on the floor to show us how it was done. To Clint Gaskins and Squeeze on Site for keeping the drinks flowing, for always knowing what I wanted without me having to ask and to introducing me to "mimosas" with just a splash of orange juice! To Cameron of Photography by Cameron for capturing all of those amazing moments shown above. It was nice not being the one behind the camera for a change. To Event Works for all of the tables and linens and for setting up the venue. And to The Crazy Dutchman for the delicious food that kept every one fueled up and energized since we were burning it right off on the dance floor! My husband was particularly fond of the meatballs and pulled pork!
Also, a huge thank you to my AWESOME hairdresser, Ashley Brace at Broadway Images. She has been doing my hair for years and was responsible for the super cute updo I had that let me stay cool but didn't look like a boring ponytail. And I got to spend a lovely couple of hours with her and my sister-in-law while we got our hair done so that was definitely a nice break. If you are looking for any kind of work done on your hair, give her a call. She does wonderful work, is very reasonable and is super friendly and welcoming.  Love you girl!
Once again, we really couldn't have asked for a better evening. Every thing came together beautifully and we got to spend a few hours with some of our closest friends and family and at the end of the day, we walked away high on champagne and beer, covered in sweat, bellies full and overcome with love and happiness from a truly awesome night. Thank you again everyone – for your love, you laughter, your joy and happiness. Our world is better because we share it with you all!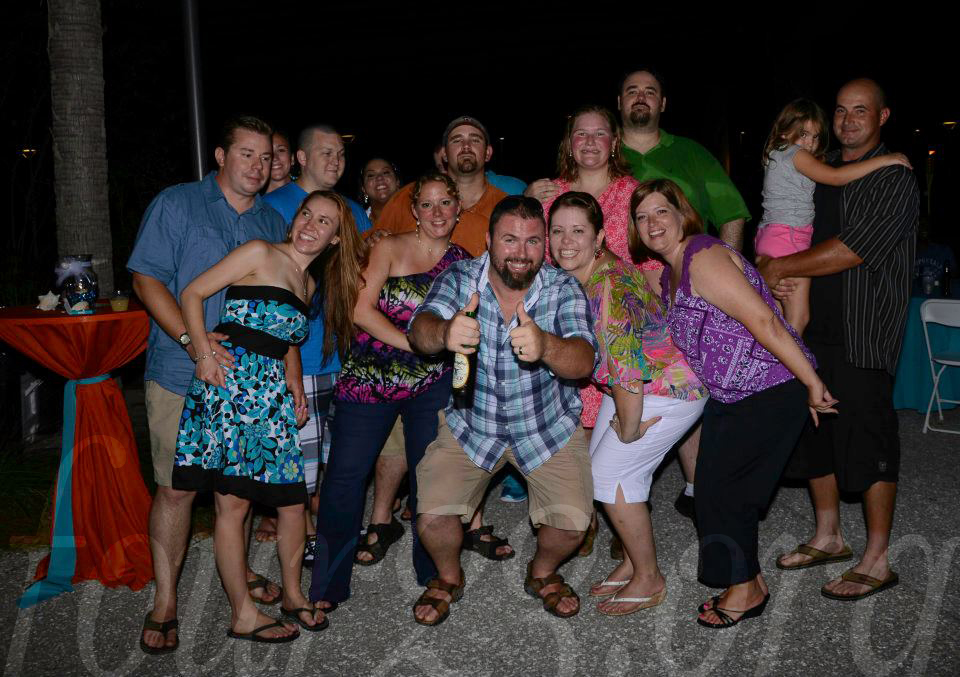 P.S. My mom has the full set of pictures that I have to pick up so until I get that, I can't post them all here. Check back soon to get the full album of the good times!