I had the kind of weekend that I've been craving. One where I played a hermit and said no to invitations and didn't leave my house at all. Sometimes I love going out and spending time with our awesome friends and family and other times, I don't want to see anyone or leave the house for two days straight. And that's pretty much what happened. I actually think the only time I went outside was on Sunday to get the mail. And I am perfectly okay with that.
That's not to say I didn't get anything done. Because I did accomplish things.
Friday night I came home with no other intention than diving into dinner (wraps with low-sodium turkey and ham, ultra thin provolone, lettuce, tomato and mustard – my new favorite go-to meal) and a bottle of wine and playing Skyrim. I did exactly this. Completely skipped exercising (I am horrible at this lately), done with dinner by six and had the XBox booted by six-thirty. I spent the rest of the night killing dragons and killing a bottle of wine.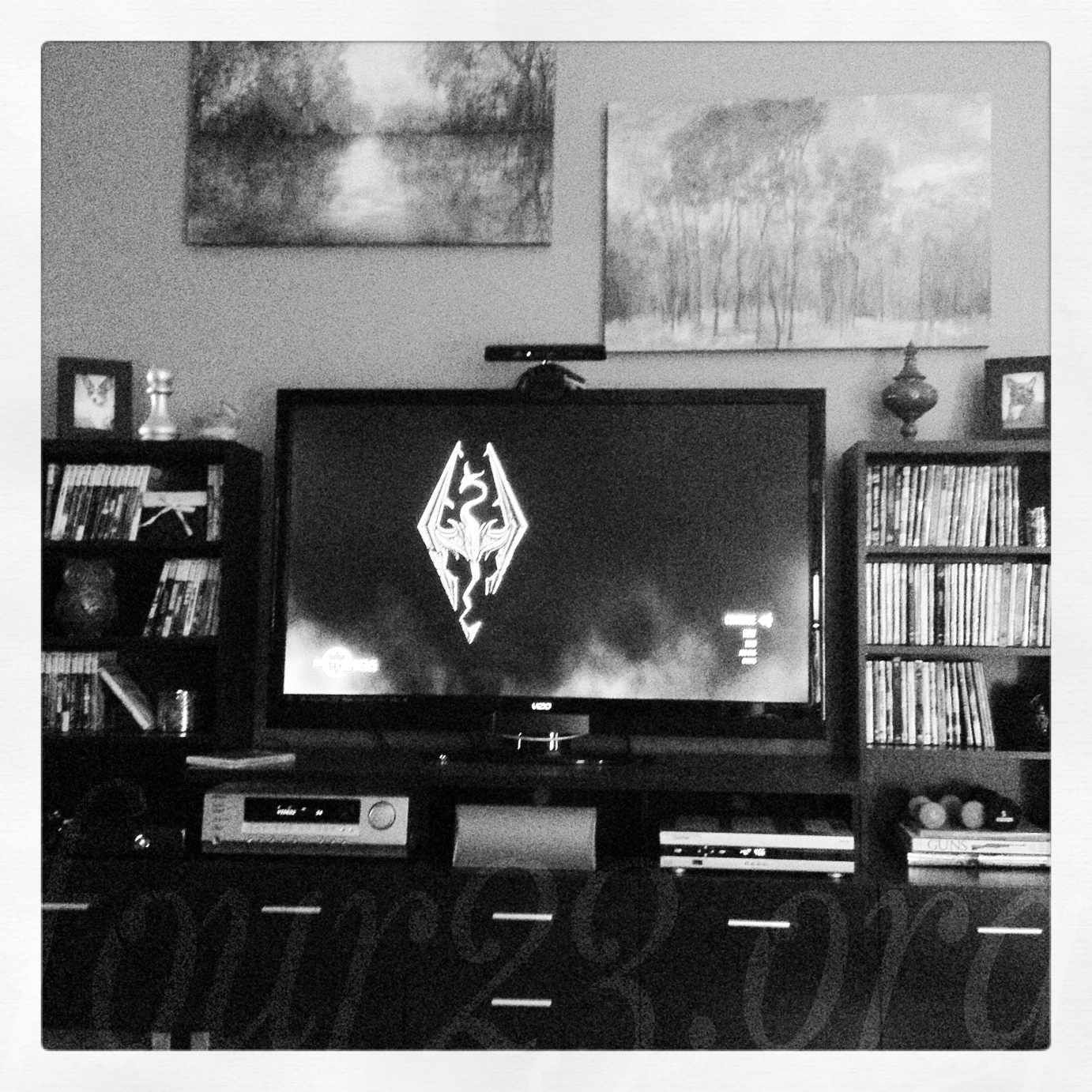 Baxter helped. Or watched. Whatever you want to call it.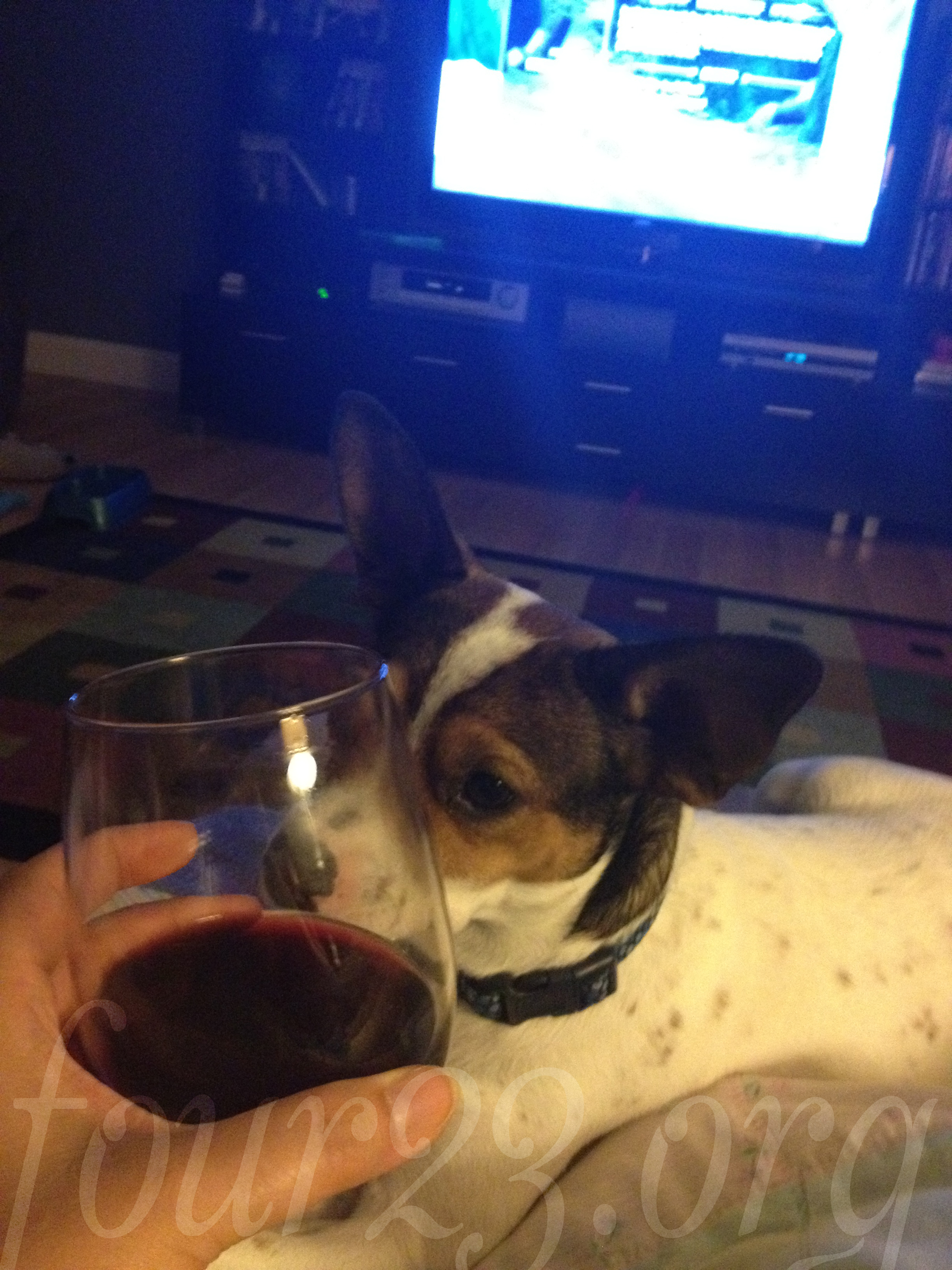 On Saturday, Steve went fishing so I decided if I was going to stay at home, I was going to at least be productive and start clearing out some of the clutter that had accumulated. I started with the guest closet, which mostly holds our winter clothes, extra blankets and suitcases and travel stuff.  Normally, I go full force and make the project bigger than it is but this time I took it slow.
I did find this in the closet and if you follow me on Instagram (username: kallure) you'll know that I questioned whether everyone has one of these in their closet.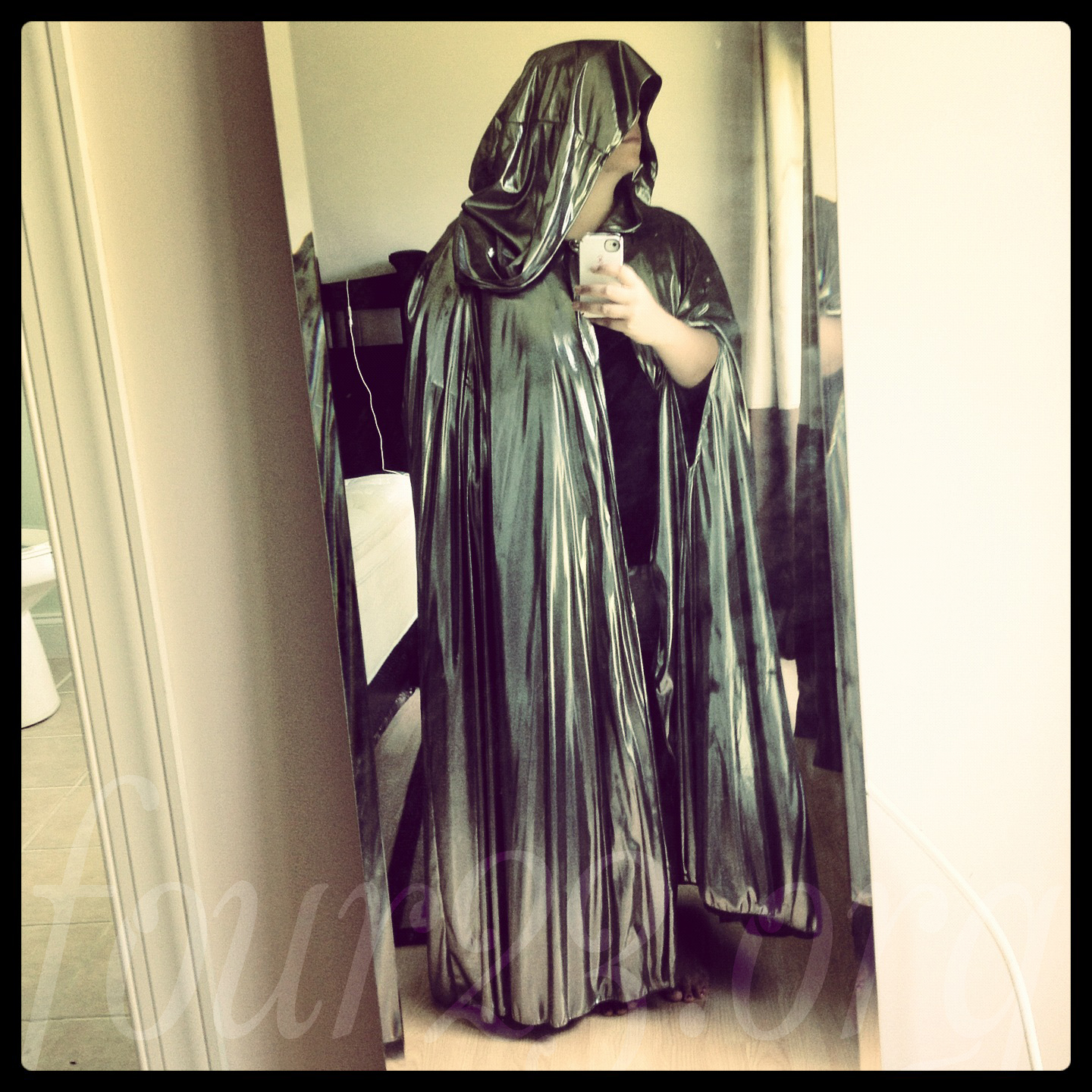 That is a full-length, fully functional silver lame cape. My grandmother made it for when I was in the eighth grade. At the time, I was exploring Pagan religions and figured I was going to wear it for rituals. And I have never been a boring person so I needed it to have some pizzazz, hence the silver. But it ended up being used a Halloween costume and has been at the back of my closet ever since. I can't bring myself to get rid of it because my Grandma made it and because you know, there might be a day when I need it. I do wish I'd had her make it in a more conservative fabric – maybe crushed velvet or something. Then I'd at least not stick out so much and could actually, maybe get away with wearing it out in public.
Maybe not. But a girl can dream.
I did laundry this weekend too, which I hate. But here's what I love. Watching my husband make the bed around the dog, who just sits and waits for you to make up his bed. Yes, I admit, the dog sleeps with us every night, under the covers, curled right up next to me. It's annoying as shit half the time but he's too adorable for me to kick him out. Plus, unlike Sammy, he's able to just jump up on our bed so it's not like we can the pull the stairs away and he can't get up. Yes, there are stairs for my dog to get into bed. If there weren't, he would sit on the ground and whine at three in the morning when he's scared of the thunderstorms and can't get up into bed.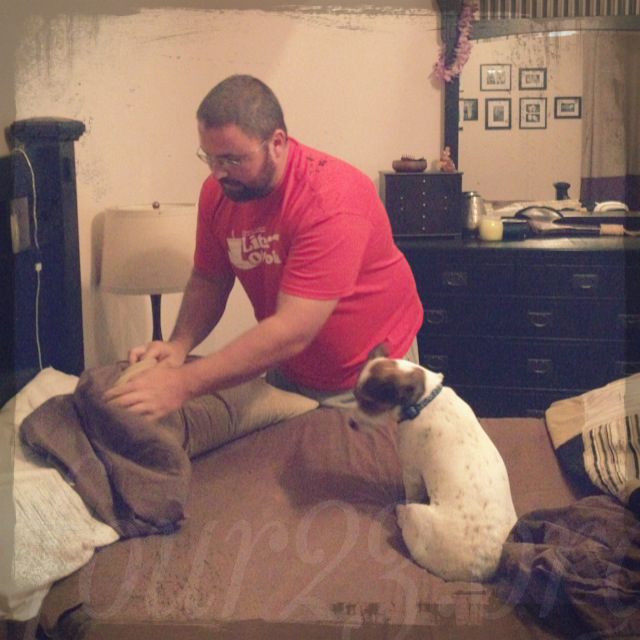 I didn't get much else done on Saturday because Steve talked me into playing  Skyrim and I could help it. I was close to finishing the main quest for Dawnguard so I had to. It's like an addiction. I swear, I love the hell out of that game.
I spent the rest of the weekend going through the office. I'm donating 90% of my printed book collection because I just can't justify keeping them anymore. I hate clutter and all these were doing was collecting dust on my shelves and I knew if I ever picked them up again, I had electronic copies. And I'm sorry, I'm just never going to be one of those people who thinks printed books are better than electronic books. I love my Nook and the convenience of being able to carry my entire library around on one device. The stories are the same whether they're on a screen or in a binding and I've come to terms with that.
Steve is super happy too because he won't have to move these ever again. At least not once I get him to take them to be donated.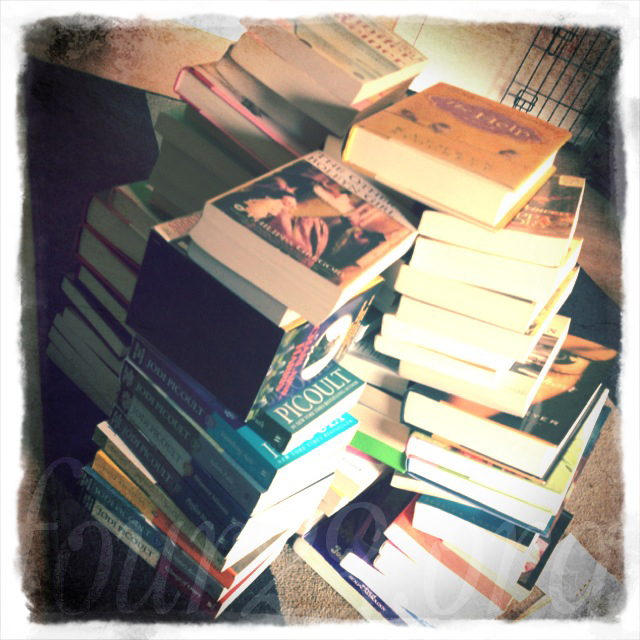 There was more  Skyrim playing, some Battlefield on Steve's part while I surfed the Internet, more laundry and finishing up Season 3 of Breaking Bad. Thank god season 5 is starting on Sunday because AMC is playing catch up and I've set the DVR to record all of season 4 so now we don't have to go trolling the internet for it.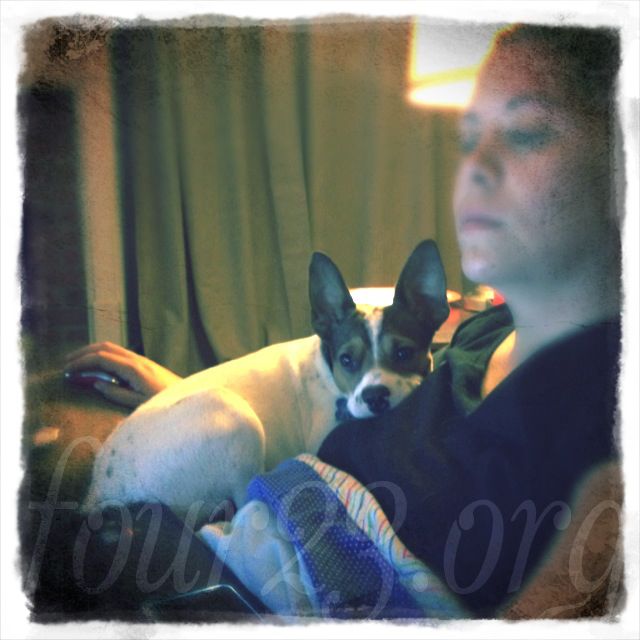 This is how Baxter lets me surf the Internet. Please note that he climbed OVER the laptop and is sitting on my chest. He does not give any f*cks about the computer in my lap!
I plan on this week being productive and fairly awesome. I'm going to start exercising regularly (hoping! come on self, you can do it!!!) and plan to continue going through the various clutter holes in my house. Maybe a Farmer's market visit on Saturday and two cookouts this coming weekend.
Finally, here's a reason I love the Snapseed app on my phone. Look at how awesome it made this picture of my neighbor's house. Very cool looking! You should definitely check it out.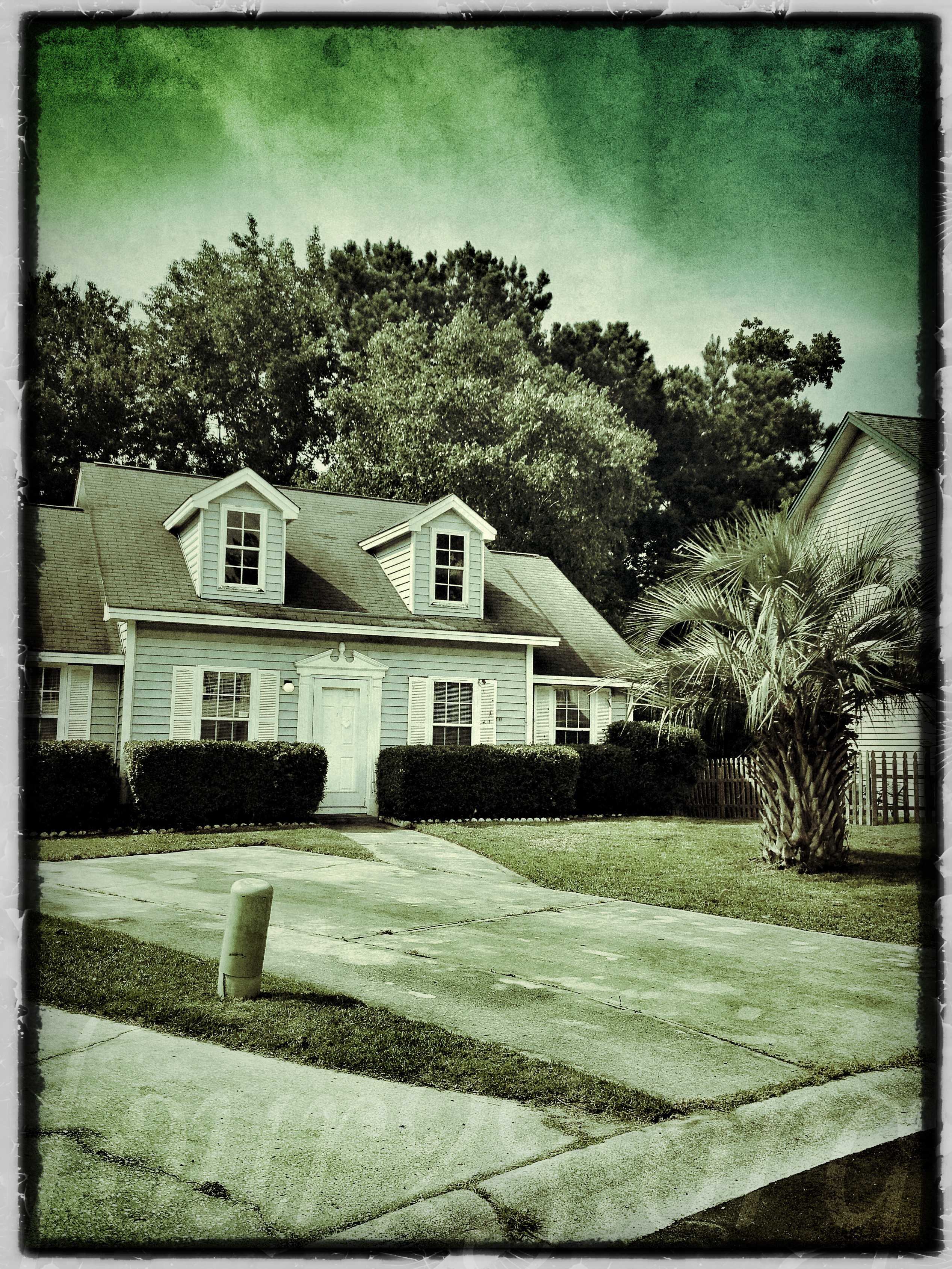 Please note: I took this picture to illustrate how nicely the house cleans up. The previous neighbors didn't mow the lawn or do any outside work for the two years they lived there. When they were EVICTED last month, those bushes had climbed above the windows. I had forgotten what the house even looked like.
Also, I want to steal that palm tree and put it in my yard.