We all have them and we all are probably able to argue with anyone why one trumps the other. Some sit solely in the classics arena and regard anything contemporary with contempt. Others like the new modern movies, the ones that were integral parts of our childhood. But regardless, if you ask anyone to name a favorite, I'm sure they can pick one right off the top of their immediately.
We are not any different in my house and every Christmas Eve we make a point to sit down with some eggnog and rum or wine, in my case, in our Christmas Eve pajamas and watch as many of these movies as we can. It doesn't matter that we may have already seen them earlier in the holiday season. We have to watch these on Christmas Eve or it won't feel like Christmas.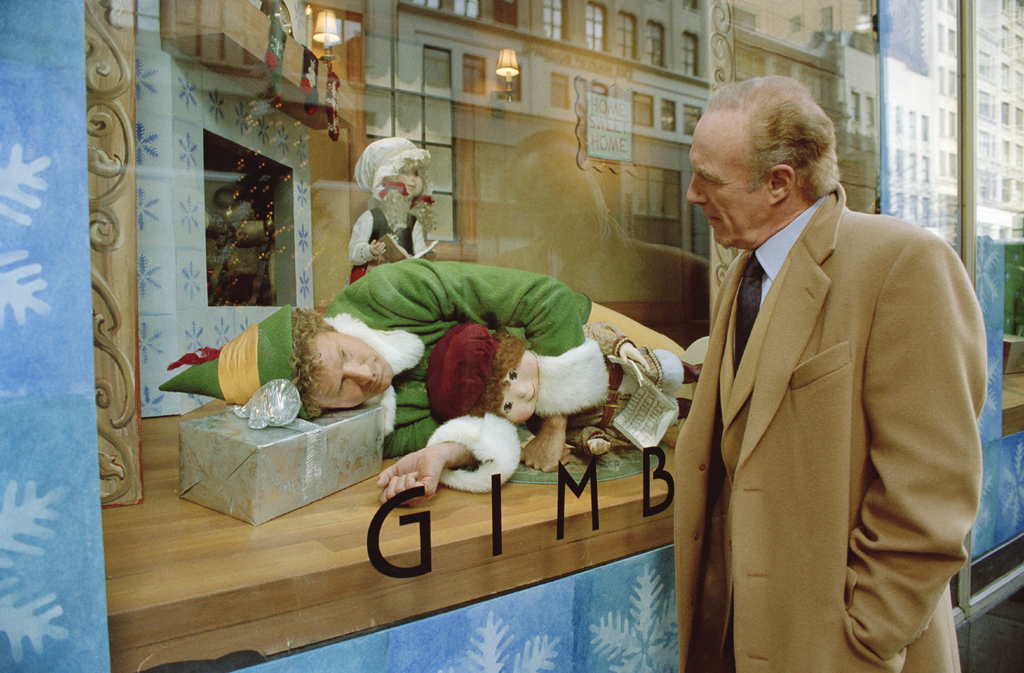 [via]

Seriously, what is not to love about this movie? I typically have a mild tolerance for Will Ferrell – some movies he is just awesome (Old School, Anchorman) while he is outshone by the ensemble in others. This movie is so perfectly suited to him that I really could not imagine anyone else playing Buddy. Take the idea that here's this adult human who was raised an elf leaving the North Pole to find his father in New York. There are so many classic one liners that if I started quoting them all, this entry would go on forever. This is such a great combination of childlike innocence and devotion married with the magical quality of Christmas in New York and the idea that Christmas isn't about seeing, it's about believing. It's such a cute story of love and faith and joy during the holiday season and I'll admit, at the end when everyone is singing and the Clausometer jumps to 100, I still get a bit misty-eyed. Love, love, LOVE!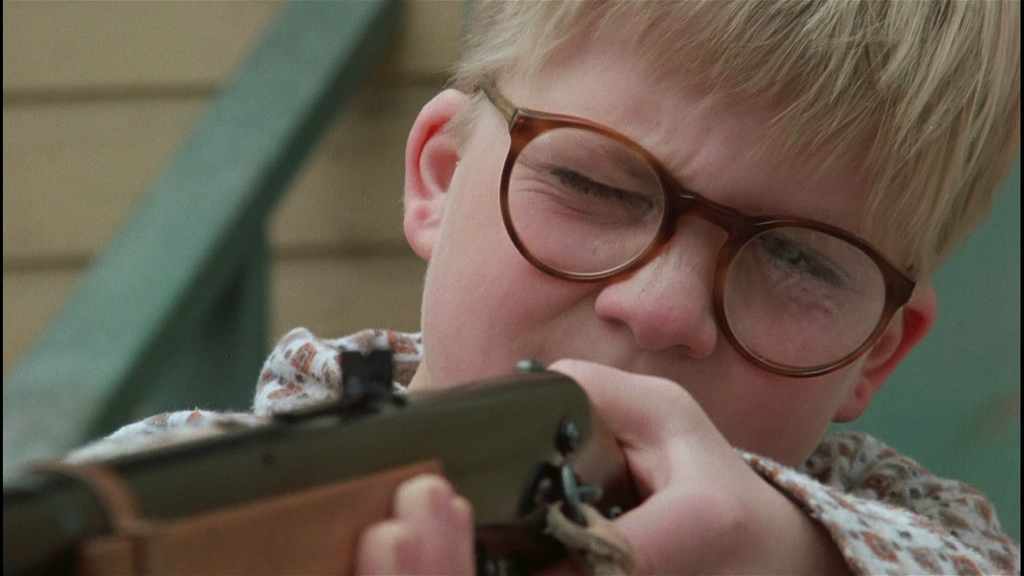 [via]

This is such a polarizing movie – people either love it or absolutely hate it. I'm in the love it camp, mostly for the tradition but it's overall a fun story to watch. We are those people who take advantage of the fact that TBS plays it for twenty-four hours from Christmas Eve until Christmas Day. If there isn't something specific we are watching, this is on TV. I think one of the things I love is something about this movie really evokes childhood memories and what it's like to be a kid at Christmas. There so many little moments in here that a lot of us can identify with. And there are some classically funny moments – the leg lamp ("You used all the glue on purpose!"), the flat tire scene ("Oh fuuudge!"), the bunny suit ("He looks like a deranged Easter bunny!"). This is just one of our quintessential Christmas movies and will never stop being on rotation on Christmas day.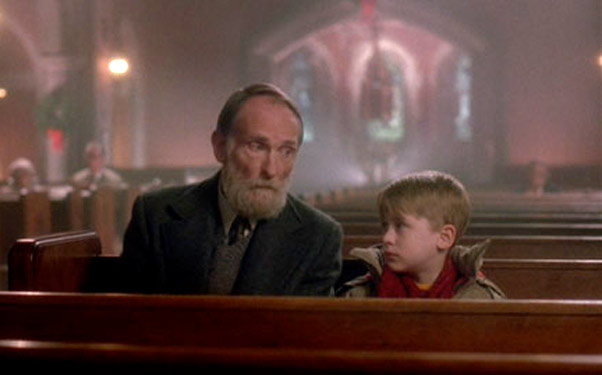 [via]

I can't tell you why I like Home Alone because I watch it over and over and Steve and I actually snark on it, particularly how Marv and Harry would've been critically injured before they even got in the house. Also, Kevin is kind of a disease. LOL I think it's partly that this is another one that came from my childhood so it holds a special place in my heart. Having been a kid when I saw it, it was almost like, yea, they treated him like crap but maybe he's the smart one. To be really and truthfully honest though, I could care less about the scenes of when Marv and Harry are falling prey to all of his tricks. My favorite scenes are the ones right after he discovered he's been left and he settles into a normal routine after going wild for the first few days. He so reminded me of my brother – I could see Eric going insane and eating all the candy and breaking every rule but within a few days, he'd be following a routine and brushing his teeth. And hands down, my absolute favorite scene is when he is in the church with Old Man Marley. I love that scene and I'm not really sure why except I think it says a lot more. There is just something comforting about Kevin connecting with this nice man who he has previously been afraid of. Note: I'm also a big fan of Home Alone 2 and would say I might have like it a little more but again, most of the scenes that I loved were the ones of him getting lost and making his way around New York over the actual prank scenes with the Sticky Bandits.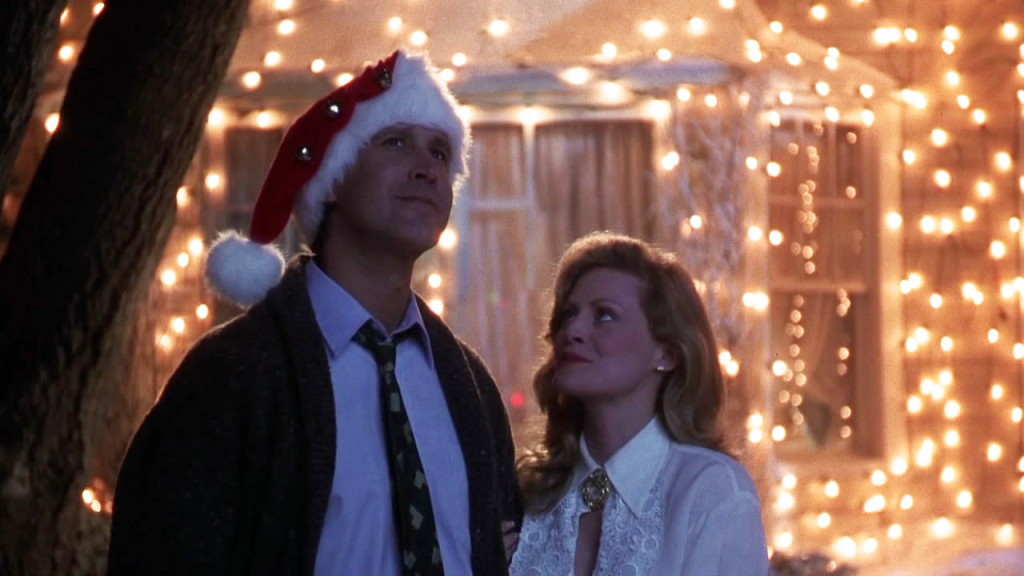 [via]
Tell me you don't like this movie and I look at you like you told me you don't like to breathe. This is the movie, the one that we can all identify with because while it can be a bit crass, it overall full of the festive cheer that we all are searching for every holiday season. Sometimes I feel like I am Clark Griswold – all I want is for Christmas to be perfect and well, most of the time, fates and family and forces we can't control interfere with that. This movie is so full of classic scenes that it feels like they've written from my childhood – the going out to get the perfect Christmas tree (though we never traveled as far out as the Griswold's did), the lights on the house, Aunt Bethany wrapping up her cat, the neighbor's ("Hey Clark, where do you think you're gonna put a tree that big?" "Bend over and I'll show you" "You've got a lot of nerve talking to me like that Griswold" "I wasn't talking to you!"). Overall, this is such a laugh out loud good time Christmas movie that I really thoroughly enjoy. We've all got a bit of Griswold in us!
And to be as truthful as possible here, I can admit that I haven't seen very many of the classics like "White Christmas", "Miracle on 34th Street" or even "It's a Wonderful Life", though I know the premise of that one. I don't know if it's because they weren't part of my generation or because my parents weren't big fans of them (my mom isn't a fan of black and white movies). One of these days, I figure I'll eventually sit down and check them out but I don't think they're ever going to replace my tried and true favorites above.
Tell me your favorites! Do you like the movies I listed or do you hate them? Any good ones I should check out?