I spent the better part of this week fighting off sickness part the second which means I had a lot of time to sit around and go through the pictures that had been piling up on my hard drive since May.
Which means I get to show you these – although they are twelve days to late and we are less than two weeks from Thanksgiving, I couldn't let this pass by.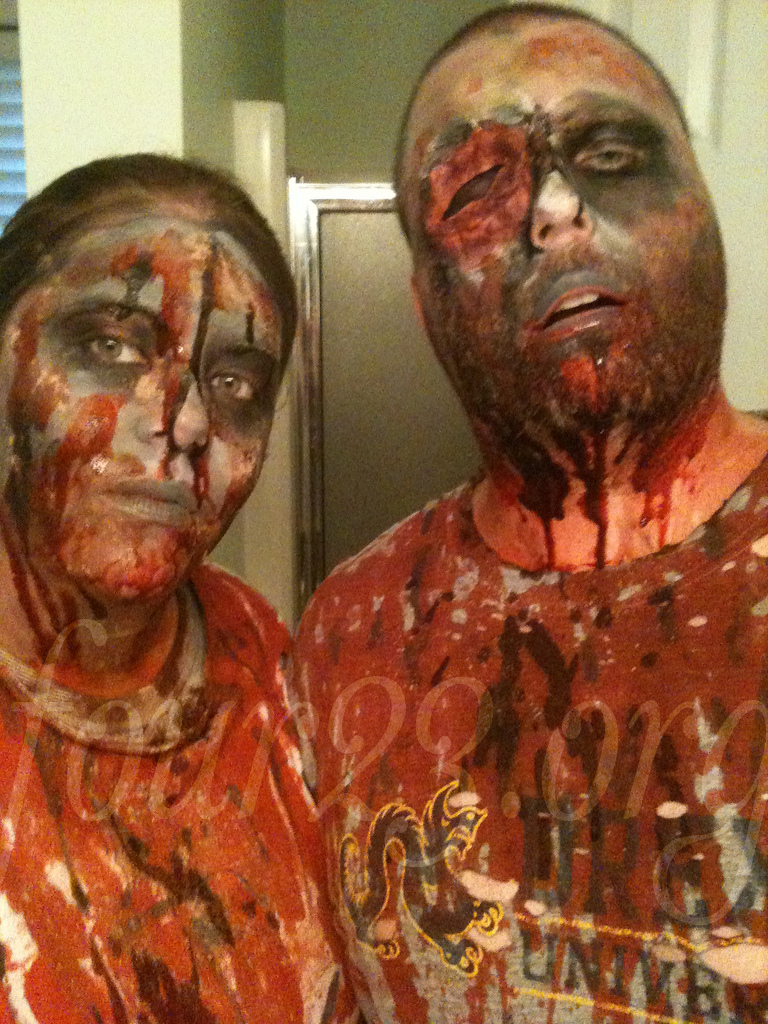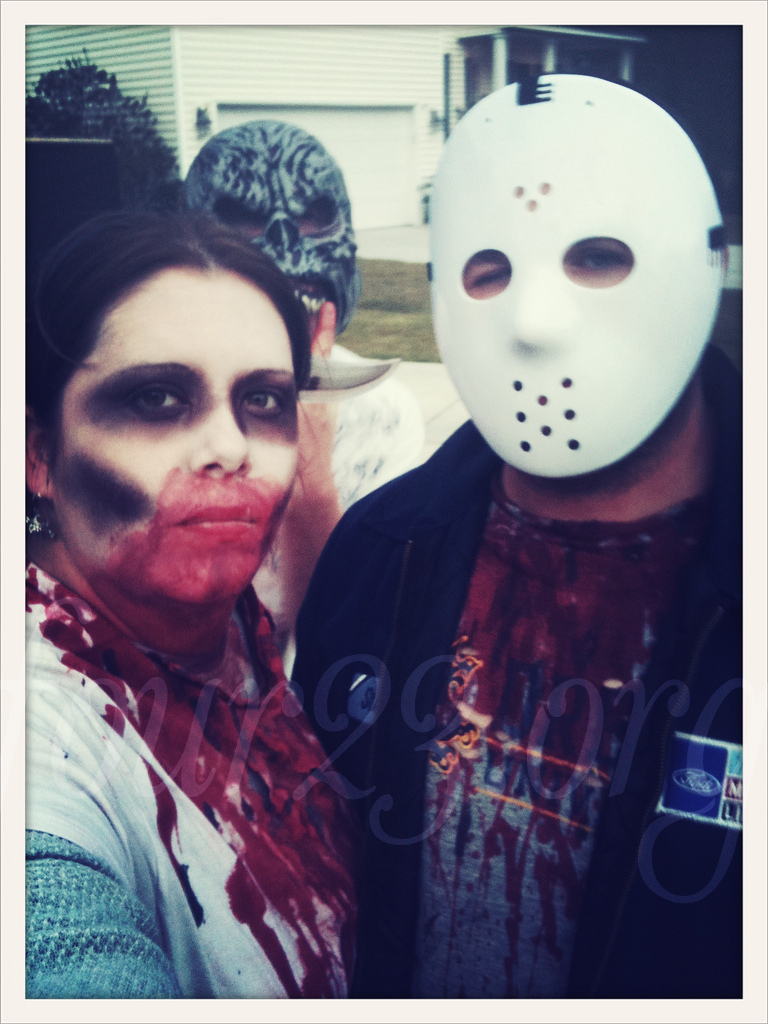 We were zombies, in case you couldn't guess.
The first picture is our ACTUAL costumes from the annual Halloween party we go to every year. I couldn't recreate that look if I tried since it was a lot of gray base makeup and then just toss some fake blood and dark shadows around haphazardly. The second picture is from when we went to my Mom's on Halloween day (yes, the 31st, a MONDAY – our kids trick-or-treat like the way you SHOULD – none of this 'scheduled' bullshit) to help them man their haunted house/butcher shop that they had set up in their front yard. My parents love Halloween as much as we do, if not more, and if people ever try to side eye me about my enthusiasm for this holiday, I basically tell them to come to my parents house to trick-or-treat and that will explain everything.
Anyway, the second one was a right after work kind of thing so I had mere minutes to throw it together before the beggars began to arrive. Steve was in charge of manning the chainsaw and both of us agreed that wearing ALL of the makeup from Saturday was just too much so he opted for the tried and true Jason mask. The shirts were repurposed, which is awesome because we'll probably use them again when we help man whatever crazy idea my parents have next year.
They were really simple to make too: just a bottle of that fake blood stuff from the Halloween store and a spray top nozzle – spray to let it drip then use your hands to spread the larger part around the neckline to get full coverage.
But, we had a great time and I'll tell you one thing, I still love Halloween, even from the other side of handing the candy out. I get a kick when the little kids come up all hesitant and say "Twick-or-tweat" and I love scaring the bigger kids. And the awesomest thing, at least here in the South – or in my parents neighborhood, are the parents driving the golf carts and carrying their beers or, in one lady's case, a full glass of wine. Seriously, that's way I'm going to take my kids trick or treating!