Eighteen. That's how old I was when I got my license. Unlike most kids my age, learning to drive just wasn't up there on my priority list, which is amazing to me now because I LOVE to drive, for the most part.  (When we exclude eleven hour car trips and daily commutes, and even the commutes weren't so bad.) It was also amazing because I worked in high school.  I got my first job as a sophomore, when I was maybe fifteen.  I worked in the Men's Department at Sears and thought I was the shit because I had to dress up and at that age, I hadn't yet learned that wearing heels was not a good idea for a job you had to stand on your feet for hours on end.
But I worked in the mall from fifteen up until long after I got a license and a car.  And you'd think being forced to take the bus would spur my interests in obtaining my license and essentially, my freedom.  I can't tell you why except it just was something that never felt like it needed to be a top priority.  Between a very busy and heavy AP/Honors workload at school and my job, I didn't feel like making time, maybe.  My parents had also explained that I would need to pay my own way and get my own car as well as have limited access to their vehicles and since I knew I wasn't going to be able to do either on my paltry part-time retail wages, I just didn't even bother.
The first time I drove by myself was to my high school graduation, in my parents red Grand Prix.
A week after I started driving, I got my first ticket: for turning left on a red light.  Because I wasn't paying attention or some synapses weren't firing correctly in my brain.  I thought it was a stop sign so I treated it like on.  Stopped, look both ways and went.  With a cop RIGHT BEHIND ME!
Shortly after that, I used a small amount of money to buy my own car.  In the twelve years since, I have had three more vehicles.
I look back fondly on each one because not only did I have some great times in them, but each of them were parts of my life at specific times and I have so many memories.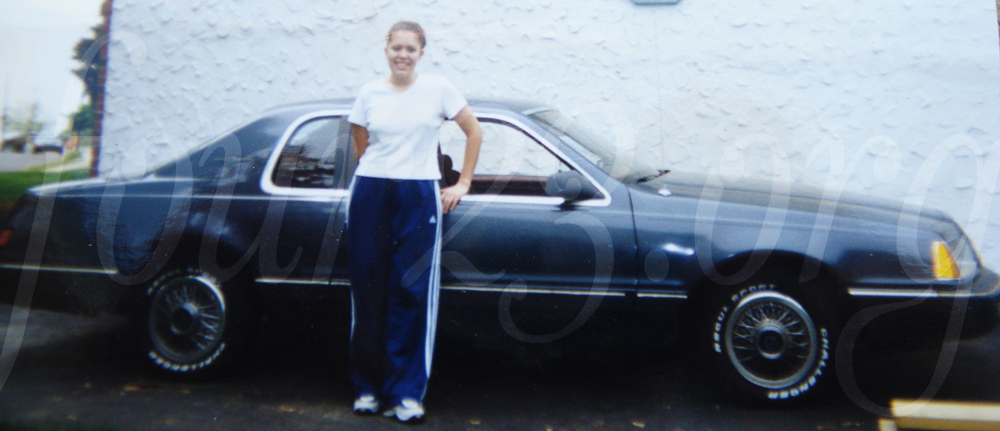 Car Number One: 1984 Ford Thunderbird.  Bought through an ad in the paper for about $800 bucks.  Approximately 1999.
Not much to remember about it because it shit the bed a few months in.  I think I drove it to work a few times and drove it 45 minutes away from home one weekend to see a boy I had met at a club. Not long after that, I was sitting at stoplight on the way to work and noticed the car wouldn't go.  Turns out the transmission was slipping which, I know this now, means that the gears were gradually just going to stop working.
I don't even remember how we got rid of it.  I just remembered I was so mad because I kind of held a soft spot for it my heart and it had screwed me over.
Stupid car.
More importantly, let's talk about my stylin' Adidas sweatpants.  Please note, if you can't make them out, that I am wearing matching Adidas shoes.  I worked at a sporting goods store at this time, 'nuff said.  Also, the is one of the only pictures I've seen where it is plainly obvious that my legs are much longer than my torso and it's because of that shirt.  There is nothing inherently wrong with that shirt except I think it's too short.
I pretty much wear my hair the same way today.
Car Number Two: 1996 Geo Tracker.  Bought used from a dealership with a loan that my mom co-signed for me.  Approximately 2000.
Man oh man, did I love this little thing!  I'm sad this is the only one I don't have a picture with me when I bought it.  This one is actually from the day I sold it because I loved it that much and wanted to remember it.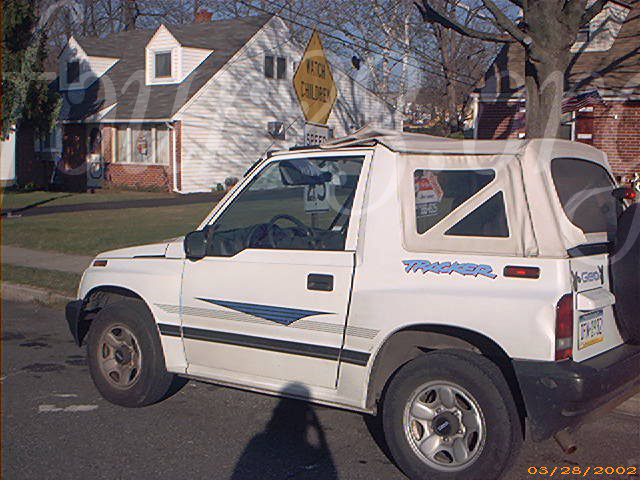 I did learn a heavy lesson with this one – always check how your insurance will be affected BEFORE buying.  We found out soon after that because this was a softtop, the insurance considered it a convertible and that, combined with a new driver, is like a nail in the coffin when it comes to monthly insurance rates.
But we made it work and I quickly fell in the love with it.
I had it when I was living in Philly and going to school and because it was so tiny, it could squeeze into spaces that weren't technically supposed to be parking spaces.  It was also super-easy to parallel park.  It was zippy too – once I moved home, I used it to commute 20 minutes into the city for school twice a week and I could zoom in and out of traffic.
The top came completely off which was so much fun in the summer but made it harder to keep warm in the winter.  And towards the end, we just stopped taking the top off all together because it was truly a pain in the ass to put back on.  It had very little trunk space (pretty much non-existent) so all of my crap lived on the backseat.
I had it when Steve and I first started dating so there were many nights spent with him in it, coming and going places or just sitting and talking.  He nicknamed it the Go-Kart and even put a stereo in it for me.  When we broke up briefly after a little over a year, I spent many nights driving around aimlessly and listening to sad songs and just working my through things.
I drove everywhere in this – western PA, New York, Maryland, the Shore.  I slept in on a couple of occasions.  We even had one pretty monstrous night down at Sea Isle City where I drank so much vodka, the last thing I remember seeing is the welcome sign and then I woke up in the backseat with a gash on my forehead in different clothes than what I had on the night before.  (I was pretty bombed and I had opened the door and fallen onto the pavement.)  I also threw up on myself and in the car and years later, when Steve was pulling the stereo out, he was still finding pieces of that Spicy Chicken Sandwich!
I'm not 100% sure why I got rid of it.  If I remember clearly, it was starting to have some mechanical issues and it just got to be too overwhelming to try and fix.  Plus, I was ready for something safer and newer. Also, Steve and I were still broken up and I think I was just looking for a change.  Apparently, dying my hair a different color never occurred to me!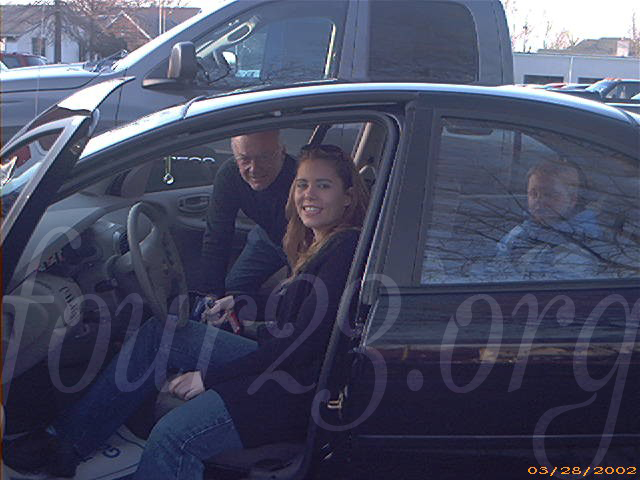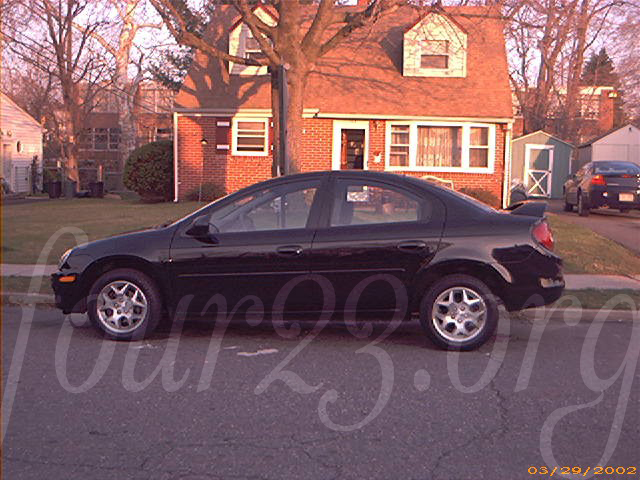 Car Number Three: 2002 Dodge Neon.  Purchased brand new from the dealership.  First loan I got on my own.  March 2002.
I loved this car because it was my first new car and the first one I actually had somewhat of a choice on.  I was limited to my budget of course and the Neon seemed so much better than my other options.  I remember feeling so awesome because I actually shopped around and came to the decision myself.  I also found it funny because I remember going to look at a Chevy Cavalier and the young, dumb salesman seemed to think I was an easy target because of my gender and kept going on and on about how it had "platinum tipped spark plugs" and I just laughed and laughed because, having dated Steve who was a car guy and a mechanic, I knew that didn't mean shit when it came to the quality of cars.
This Neon was actually the catalyst for rekindling my relationship with Steve.  He had put a radio in the Tracker and when I decided I was going to get rid of it, I called him and told him if he wanted it or anything else in the car, he needed to come and get it before I traded it in.  He did and he also came over to "check out the new car" the day I got it and from then on, things just kind of fell back into place and we've been together ever since.
I got my first flat tire in the car.  I was driving home from work and it was POURING and I hit a pothole and just knew.  I pulled over on the busy road and actually had to call Steve to come help. Not because I don't know how to change a tire but because my spare was in the truck under a four foot long heavy subwoofer box with two 12″ speakers.  A box that I was pretty much incapable of lifting.  But he came and got me all squared away.
I actually had that sub box up until about a year ago.  I liked my music LOUD and RATTLING!
I had to ask Steve if I got into any accidents in this car and he thinks I did but neither of us can remember.
This one lasted me through the rest of my college years into my first job and my first apartment.  The transmission on this one also started going – the gears weren't slipping but they would kind of bang when it switched.  Steve basically told me it was time to get rid of it.  And that was ok with me because I pretty much was over the car.
Car Number Four.  2004 Hundai Elantra in Tidal Wave Blue.  Bought directly from the dealership.  June 2004.
The Elantra is my baby.  It's actually still sitting in my driveway today and after all this time is still my daily driver.  I consider it a personal triumph that I have kept it long enough to pay off the loan and that it's been all mine free and clear since 2009.  I remember falling in love with this car when we went to the dealership.  A friend of ours had an Elantra and we would always ride with him to A/C and we were both impressed with how zippy and smooth of a ride it was.  So I decided to check them out and found this one and it was perfect.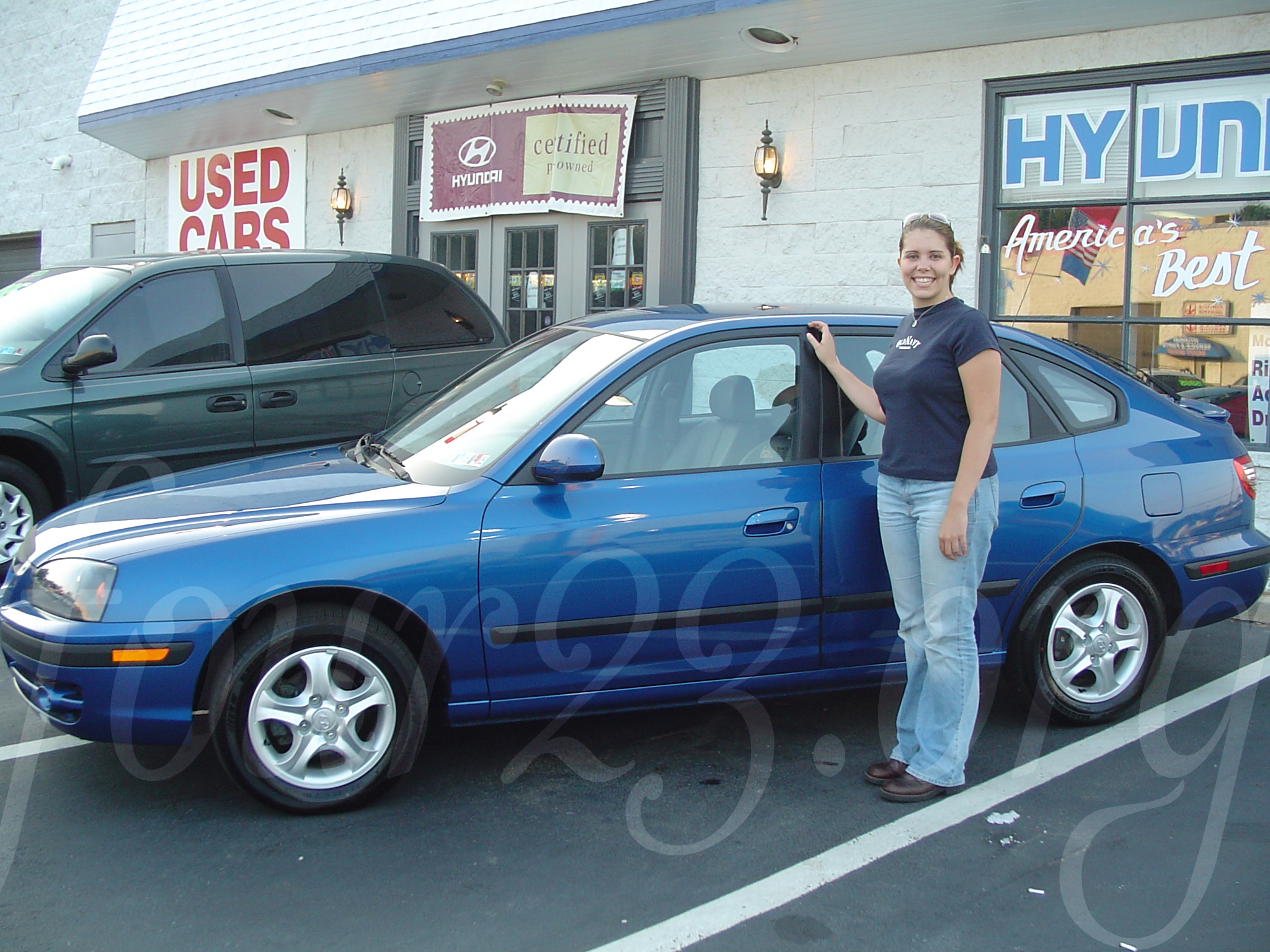 I loved the color.  I loved the fact that I pretty much got it fully loaded – leather seats, power doors and locks, a Kenwood MP3/CD player, aluminum wheels.  And I loved that fact that I got all of that for a price that was less than what other brands were asking for their economy class vehicles.
And this was the first car I bought where I was at the dealership by myself with the check and could negotiate the price I wanted.
This car has been everywhere with me – up and down the Eastern seaboard, back and forth to work.  Unfortunately, it's not as pristine as the day I drove it off the lot but that's what a little love will do to it.  It's paint is starting to fade and there's some dings here and there.  It's been hit on each corner – either by me running into something or something running into me.
I had my first bad accident in this car, one that put me in physical therapy for months and one where I ended up having to actually sue the other driver because she was PASSED OUT at the wheel from doing drugs and slammed into me while I was sitting a stop light. Unfortunately, (or fortunately depending on how you look at it) the lawyer I got was a total sleaze and sent me to an even sleazier body shop so the repairs that they did were subpar and parts of the trunk look like shit to this day.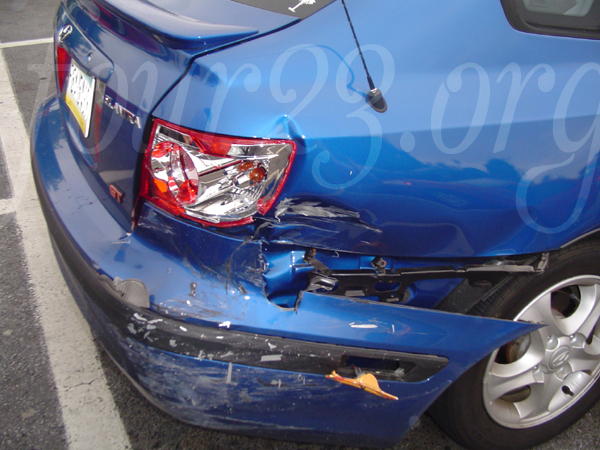 I was devastated because this was some major damage to my shiny brand new car and I hated the fact that it now had a indefinite scar on it from having to have so much body work.  Of course, this didn't stop me from rear ending someone a year later because I just wasn't paying attention (it was minor and no one was hurt except a headlight).
The Hyundai has been a really good and reliable car for me.  It's been all over the place with Steve and I, it brought me to down to South Carolina when we moved, it kept up the pace when I commuted an hour every day and now it's getting a break since my commute is all of five minutes.
It's also PHENOMENAL on gas mileage.
At some point in probably the near future, it will be time to say goodbye.  We've actually been talking about it for a year or two but I can't stomach the thought of having a car payment again and I just don't think I'm ready.  I love my car and ultimately, when it is time, I'll have no problem getting rid of it.  But right now, there's a little of nostalgia attached to it, some accomplishment.  Everywhere I've been in the past seven years, it's been with me.  And I've made some of the biggest changes of my life in those years.
It's just a car.  I know this.  But a part of me is wrapped into it.
And a part of me isn't ready to give it up.
Some of my best memories of my adult life are wrapped into all of these cars.  Of course, it was never about the cars themselves, but where I went with them and who was with me.  Sometimes, I can hear a song or smell something on the breeze and I'm transported back to being in that Neon or the Tracker and remembering the nights with the windows rolled down and the music loud and it makes me smile.
And it helps me remember who I am and where I came from.  And most importantly, how I got there!