Well, now that I've got this out of my system I can move on and talk about other things.
Meet Baxter [1. Steve named him that because he looks almost like the dog from the movie The Mask.  Except I literally just found out while searching for that link that the dog's name was not, in fact, Baxter but Milo.  Awesome.], the new addition to our family.
On Saturday, after we had gotten back from spending the day at the hospital with Grandpa and before life fell apart, we were walking Sammy around Grandma's yard.  My grandparents have always lived on the outskirts of town where the houses are not close enough to be neighbors but the yards are big enough to need a riding lawnmower.  So we're walking Sammy and we see these two dogs come running up – one is fluffy and border collie looking.  It stayed far enough away from us but kept barking it's head off.
The other one was this guy.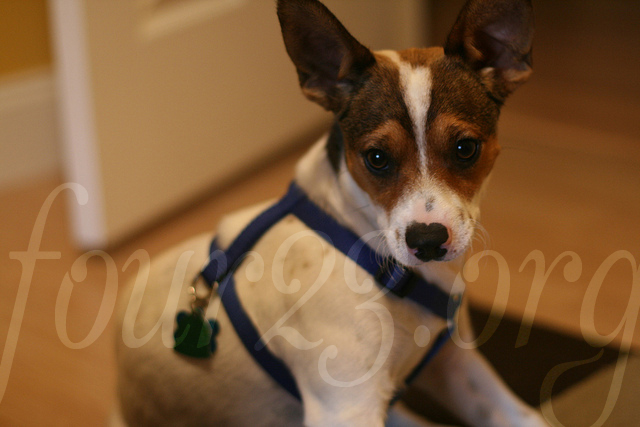 And Sammy took one look at him and freaked out and started to pull on the leash to get over to him and he just came trotting right up to Sam.  We were careful and pulled Sammy's leash a bit tight so they could say hi but we could pull them apart if a fight ensued.  And Sammy got so excited and didn't snarl or growl like he does with other dogs and they just started to follow each other around.
Steve looks at me and says, "Let's take him home!"
And I take a moment to reel my shock in.  He's always been the one against getting a second dog because, well, dogs are responsibilities and they cost money and you can't just take off for a weekend without finding someplace for them.  Plus, he was obviously some kind of stray because he was filthy and covered in fleas and ticks.  But he was friendly and came right up to you and seemed like just a puppy and my sister had said she'd seen him out wandering around the neighborhood for like two weeks.
"If that's what you want," I replied.  "But if it goes bad, it's your fault."
Of course, within days I was in love with him.
We wrangled him up and put him in a kennel my grandparents had in their storage shed back from when they had dogs.  He did NOT like the kennel but we had already decided, we weren't taking any chances.  Then we headed to Wal-Mart and got some supplies to hold us over until we got back here to South Carolina – i.e. a harness, a leash, some food (because we were almost out of Sammy's).
He took to the leash well and he and Sammy formed a pack almost instantly.  After the awful day we had Sunday of saying goodbye to my grandpa, we then spent four hours in the car with him in a kennel whining and crying and panting.  But when we got home, he was fine and seemed to take the house rather well.
We kept him crated for the first few nights and during the day when we were gone, mostly because we weren't sure if he was housebroken and also because we wanted to take him to the vet before allowing him pretty much full access to Sammy.  But that Monday, after I found out about my Grandpa, I did let them out and play in the backyard and sat out there with them for an hour or so.  Baxter and Sammy are partly responsible for helping me compose myself so I could go into work.
On Tuesday Steve took Baxter to the vet (note: I avoided calling him by his name until Steve had taken him to get checked out and cleared) and he got a clean bill of health.  Save for some ear wax buildup and some skin allergies, he is a happy and healthy puppy, approximately eight months to a year old.
It has been an adjustment getting used to two dogs, especially one that is such a high-energy puppy like Baxter.  And he is REALLY strong.  The vet confirmed our guess that he's a Jack Russell and Beagle mix and he certainly exudes those qualities.  The Beagle in the face and the howling and barking.  And the Jack Russell in the hind legs, the strength and the superfast running.  Steve said he was so strong that when they drew for heartworm tests at the vet, Baxter forced his way out of two vet tech arms and ran around the office with the needle sticking out of his neck.
But it has been pretty awesome too.  Sammy and Baxter are still getting used to each other – Sammy is a grumpy old man who at times doesn't want to be bothered so Baxter will just sit there and bark and bark at him.  But they also play together and wander around the yard together and Sammy ultimately seems happy to have someone at home with him during the day.
And for us, Baxter isn't a replacement Sammy but an addition to our wolf pack.  He seems kind of housebroken, or at least he's picked up on it real quick (I think Sammy helps with this).  He knows sit already.  And unlike Sammy, he's super cuddly any time of the day and lets you pretty much do what you want with him – mess with his paws, his ears, his mouth.  Sammy has no part of that and is a ferocious biter.  Baxter, on the other hand, doesn't care.  Unless you're putting drops in his ears – then he gets the hell out of there and hides.
But he attacks squeaky toys with a VENGEANCE and he's always SUPER EXCITED to see you and running around like crazy and just overall happier that he now has a home with food and toys and a brother who kind of plays with him but at least seems to tolerate him.
And we love it too.  In the beginning, Steve and I kept asking each other if we were crazy for taking in a stray, for just randomly finding this dog and bringing him into our home.  Steve always asserted that it was because Sammy seemed to get along with him well.
But as the week went on and I grieved over my Grandpa and prepared to head back to bury him, I told Steve this: "You know, I don't believe in much but I believe Baxter might have been sent to us by someone to help us through this rough time."  Because he truly has – he has required just enough attention to keep me from crumbling into an utter mess and I will forever look at him as one final gift from Grandpa.
So here's to the new member of the wolfpack.  Welcome home kiddo!